England vs India: Harbhajan Singh bumps into a familiar radio seller at Lord's
Today is the third day of the England vs India Test that is underway at Lord's.
Get every cricket updates! Follow us on
Indian spinner Harbhajan Singh who is still an active cricketer but last played a Test back in 2015. Harbhajan is also in England where the Indian team is currently playing a five-match Test series. Though not a part of the on-field squad he did find a place on the SkySports commentary panel. As a matter of fact, he is the only Indian commentator who is airing his views live.
England and India are playing the second Test of the series at the Lord's Cricket Ground in London. As he was heading into the stadium for the third day of the match, he bumped into a young bloke selling radios. The tall young man was Arjun Tendulkar who is at the Home of Cricket practising with the youngsters there.
Jr Tendulkar selling radio
Bhajji took a picture with Arjun who is carrying a Lord's radio shop around his neck. The cricketer tried to help his little buddy spike up his sales. While posting the image on social media wrote that he'd already sell 50 and that those who want to buy one better hurry up as he only had a few pieces left.
Arjun was selling the digital radios at € 20 each. The radio is for spectators who can use it to tune in to live commentary while watching the game from the stadium. It helps them understand the analysis and perspective of some of the greats of the game while enjoying live action.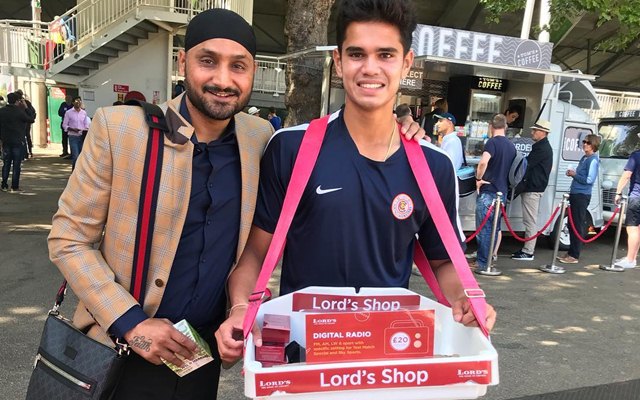 Tendulkar junior has been in England for the last few days. He travelled to London after completing his assignment with the India U19 team in Sri Lanka. Arjun is currently practising with the MCC Young Cricketers that also gave him a chance to bowl at the Indian batsmen in the nets. They were more than happy to use the services of a left-arm seamer and Arjun with his accuracy even managed to uproot KL Rahul's stumps in the nets.
The Lord's Cricket Ground put up an appreciation post for him on Twitter yesterday for helping the ground staff who were trying to get the covers in place as the skies poured down heavy.
Here is Bhajji's post: