England vs India: Some picks from hosts' 999-Test journey
A quick look at England cricket before their 1000th Test.
Updated - Jul 31, 2018 2:01 pm
144 Views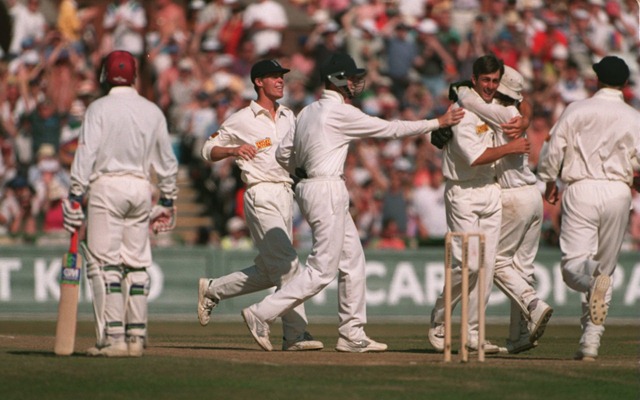 Follow us on Telegram
India will lock horns with England for a five-Test series starting on Wednesday, August 1. The series will be interesting from a cricketing point of view but historically, too, this series, especially the first Test at Edgbaston, will steal the limelight.
England played their first-ever Test in March 1877 when and they were defeated by arch-rivals Australia by 45 runs in Melbourne. James Lillywhite was the captain of that England side which won the next game in the same venue to level the series 1-1.
England's first-ever home series (one-off Test rather) was played in 1880 against the same opponents and led by Lord Harris, they won the match by 5 wickets. The first full-fledged Test series in England featuring a minimum of three matches were played in 1884 and the hosts won it 1-0. While Albert Neilson Hornby or 'Monkey' Hornby led England in the first Test, the rest of the two games saw England being captained by Lord Norris. England won the second game at the Lord's by an innings and 5 runs to win the series.
Over the last 141 years, England have played in 999 Tests and are on the verge of playing their 1000th , something no other playing XI on this planet has done and given the format's sharply declining popularity, it's not clear if it will be matched ever by any other team (Australia are a distant second with 812 Tests).
England was the opponent when India played their debut Test in 1932, 15 years before they got independence from same Great Britain and today, it is the Englishmen's former colony who will be playing with them their 1000th Test.
Here are some interesting titbits from England's long journey of 999 Test matches:
The unluckiest England player
Ninety-six players have played just one Test for England but of all of them, John MacBryan was perhaps the most unlucky. In fact, he is the only cricketer in the world who did not bat, bowl and didn't even get to touch the ball on the field in that only Test he played against South Africa at Old Trafford in 1924, thanks to a bad weather which allowed only a day's play. MacBryan was a prisoner of war from the First World War and also won gold in hockey for Great Britain in 1920.
No, WG Grace is not the oldest
The bearded man wearing wooden pads is often thought to be the oldest man to play for England in Tests. But he is not. The record rather belongs to Wilfred Rhodes, the left-arm bowler-turned-opening batsman from Yorkshire, who played his 58th and final Test at the age of 52 years, against the West Indies in 1930. The time span between Rhodes' first and final Test was an incredible 31 years.
England was fighting their own stomachs than the opponents
In the past, English players often have had stints abroad when they were hit hard by local belly bugs, reducing their camp into a medical one. A similar incident happened during England's three-Test series against India in India. Including the then skipper Graham Gooch, several players from the visiting side couldn't digest the spicy food they had on the eve of a match which they needed to win to remain alive in the series. Out came a report in Independent that read: "Whether or not England have the stomach for a fight in this Test match rather depends on whether they have a stomach left to fight with."
When the Ashes took birth
England's rivalry with Australia perhaps stands second only to that between India and Pakistan in terms of intensity. And the intensity of the Ashes first came to prominence after the thriller at the Oval in 1882 which England lost incredibly. Chasing 77 to win, the hosts were 51 for two but were bowled out for 77, thanks to Frederick Spofforth's 7 for 44. One spectator succumbed to a heart attack while a woman chewed the handle of her umbrella. The media carried a mock obituary of English cricket saying "the body will be cremated and the ashes taken to Australia". The next England-Australia series was termed as Ashes and the tradition has continued since then.
Long before VVS Laxman, there was Sir Ian Botham
VVS Laxman's heroics at the Eden Gardens in 2001 against the mighty Australians is a modern-day fairy tale but such a script was written by legendary English all-rounder Sir Ian Botham two decades before the Eden drama.
It was the third of a six-Test series and the visiting Australians, led by Kim Hughes, were leading 1-0. Hughes won the toss and elected to bat first and the visitors put up 401 runs for 9 wickets declared. Botham was the best of the English bowlers taking 6 wickets for 95 runs. The hosts then slid in their batting, getting bowled out for 174 with Botham top scoring with 50. Mike Brearley's team was asked to follow on and after a disastrous beginning, it was Botham again to the hosts' rescue. He slammed a149 not out in 148 balls and gave Australia a target of130 runs.
It was then for Bob Willis to give the death kiss to the Aussies, tumbling 8 of their wickets for 43 runs and bring England a win by 18 runs. England then went on to win the series 3-1 and this victory at Leeds remain one of their best in the 999-Test history.
The timeless Test which was yet not decided
The mother of all Test may be. Played in Durban in March 1939, a few months before the Second World War broke out, England and South Africa carried on with their on-field struggle for 10 days but yet the game was inconclusive as the English cricketers had to rush to catch their home-bound ship. South African captain Alan Melville won the toss and elected to bat first and his team scored 530 runs in 202 overs at an average of below 2! England, captained by Wally Hammond, then scored 316 to give the hosts a handsome lead of 214 runs. The hosts came up with another mammoth total of 481 in their second essay, setting for England an out of the world target of 696.
England then started their voyage towards the target, using over 218 overs to reach 654 for 5, needing just 42 to record a victory which no human team could have ever broken in the history of the game perhaps. But since everybody else apart from those playing that Test had the rush to complete things on time, the English players had to leave without reaching the target. Nearly 5,500 deliveries were bowled in that Test alone!
Stay updated on 'today's cricket news' with CricTracker.com.
Follow us on Google News