English media and fans react after Virat Kohli refused to give BBC an interview after the 3rd Test
Virat the winning captain was also the Man of the Match in the 3rd Test.
Updated - Aug 23, 2018 12:41 pm
3.7K Views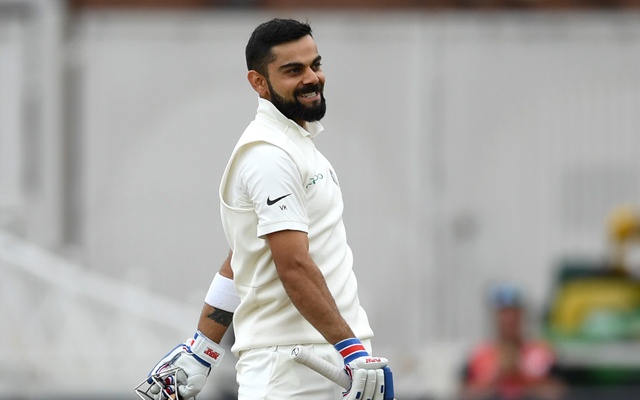 The Indian team won the third Test match against England at Trent Bridge with quite some ease. The final day of the game was a mere formality as they needed just one wicket to wrap things up. Ravichandran Ashwin on the 17th ball of the morning dismissed James Anderson and Team India registered a 203-run win. Skipper Virat Kohli was awarded the Man of the Match for his brilliant batting but before it could all settle he was induced into a controversy.
After the conclusion of the game, BBC Test Match Special's Jonathan Agnew asked the Indian skipper Virat Kohli for an interview as well. But Kohli couldn't oblige and the broadcaster was rather not happy with how the situation was handled. Agnew on Twitter expressed that it was because the team's media manager didn't let them conduct the interview with the winning captain.
Angry English media and fans rant about it on Twitter and most of them blamed the media manager for not understanding the importance. There were others as well who defended him and expressed that the man was just doing his duty.
Here are some of the tweets:
@imVkohli disrespectful to ignore @Aggerscricket and refuse his request for a quick interview. @bbctms is a well respected broadcaster and has been pivotal in raising the profile of cricket around the world 😡😡😡

— Stephen Foster (@foster2406) August 22, 2018
It isn't so much Kohli as the alleged press officer @moulinparikh who fails to appreciate that he has a duty to the game. Great shame https://t.co/Z3q5pAZuWr

— Jonathan Agnew (@Aggerscricket) August 22, 2018
My highlight of the morning watching you (from the Pavillion) give @moulinparikh an earful. You did not look pleased. 🤨

— Nick Judge (@judgey1969) August 22, 2018
Why aren't TMS allowed to interview Kohli? Still haven't seen a reason given.

— Will Taylor (@willtaylor_95) August 22, 2018
That's unfortunate, many people are blaming @imVkohli for his arrogance but it's the management fault, he doesn't have any personal problem with @bbctms , the management should take these issues very seriously.

— Somak Mukherjee (@iamsomak) August 22, 2018
It is a shame Aggers, I agree. In his defence I was at Edgbaston for 1st match & was only a few yards away from u & Vaughan when u asked for an interview & he obliged.. just after he lost! Irrespective of who it is, TMS should always be allowed a few minutes with Captains!

— Jay Bansal (@JayJayBansal) August 22, 2018
Maulin is a very good media officer who knows his job well. He too has a job to do. Can't be taking Capt along for individual interviews.

— Makarand Waingankar (@wmakarand) August 22, 2018
We are rights holders and radio host broadcaster. As such we always interview both captains and man of the match. With just one exception

— Jonathan Agnew (@Aggerscricket) August 22, 2018
There are Sky Sports & Channel 5 too as host broadcasters. Is it in the contract that you will get to interview the Indian capt after every match ? Weren't the media told that the Head coach will be addressing the media.

— Makarand Waingankar (@wmakarand) August 22, 2018
The Indian team produced a clinical effort at Trent Bridge to put up a 300+ total for the first time in the series batting on day 1. In their response, England were nowhere near the best and Hardik Pandya exposed the vulnerability of their middle-order and got to his maiden five-wicket haul in Tests. After falling 168 runs behind in the first innings, it was an uphill task for the hosts to come back.
Virat bettered his 97 from the first innings with a 103 in the second. Jasprit Bumrah claimed five this time and England were bowled out well short of the 521-run target. The series now moves to Southampton where the fourth Test gets underway on August 30.