Eoin Morgan focuses on duel against Indians and not the FIFA World Cup
The England cricket team will cease their attentions when England takes on Colombia in the upcoming FIFA World Cup 2018 quarterfinal.
Updated - Jul 3, 2018 11:44 am
193 Views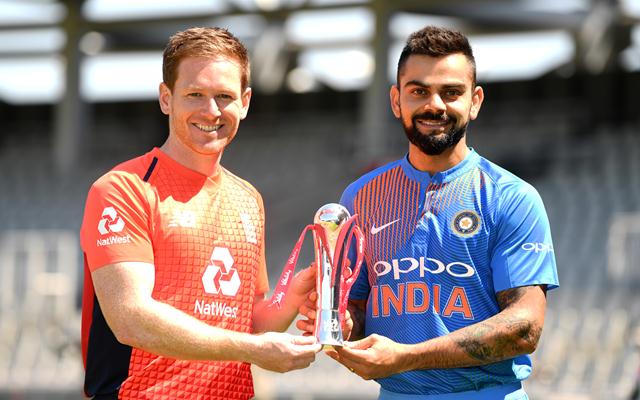 Follow us on Google News
England's captain Eoin Morgan has set his sights solely on securing a victory against the Indians in the first T20 international to be played in Old Trafford on the 3rd of July. Having thrashed the Australians in a recent series, England's confidence at the moment could not be any higher. However, experts have questioned whether or not the hosts will be distracted by the crowd in and around the ground who will have their eyes glued to the England vs Colombia match in the FIFA World Cup in Russia.
The England football team has taken a few large strides in recent times with some fantastic performances, especially the 6-1 hammering of Panama. Morgan, however, dismissed the claims saying that there wasn't going to be any good or bad distractions, to say the least.
"We had a similar instance against Australia in the final ODI, you do notice it because in the car park over the far side of the ground there was a big screen," Morgan told a media conference.
"You see the crowd going out and watching the game, but the cheers I suppose were quite frequent in the Panama game but it'll be interesting to see how it goes. I don't think it's going to be a good or a bad distraction, it's there, the guys are passionate about keeping an eye on it but we'll still be firmly focused on the game."
Experimentation on the cards for England
Morgan also went on to add that there would indeed be experimentation as far as the hosts were concerned as they continue to look for the best combination ahead of the 2019 World Cup"I think you will see more experimentation," he added. "I think we have to be open to what might be the best combination down the line. I don't think, here and now, making a solid decision and sticking with it for the next two years is productive or healthy.
"You have to be open-minded about potentially changing the order down the line."
Stay updated on 'today's cricket news' with CricTracker.com.
Follow us on Telegram