'Everyone's feeling was centred around paaji' – Virat Kohli on Sachin Tendulkar winning the 2011 World Cup
Sachin had a memorable outing in the mega event after he also became the second-highest run-scorer.
Updated - Jul 29, 2020 3:31 pm
166 Views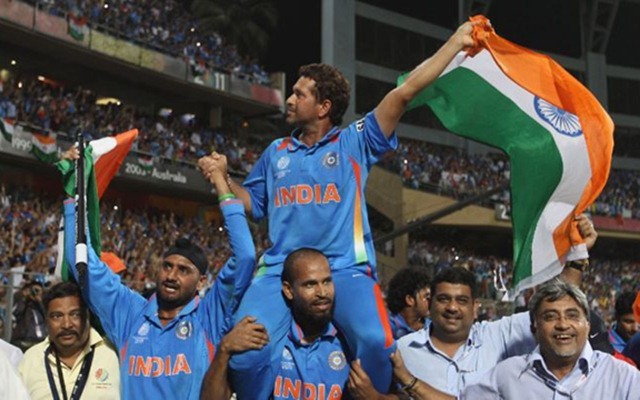 Follow us on Telegram
From 1992 to 2011, the legendary Sachin Tendulkar had played in as many as six editions of the World Cup. However, it was only in 2011 that he managed to get his hands on the coveted trophy. Indian skipper Virat Kohli, who was pretty new to international cricket back then, said how the Indian cricketers were happy about Sachin getting to lift the World Cup for the first time.
After India's victory over Sri Lanka by six wickets, the Indian players took a lap of the Wankhede Stadium, carrying Tendulkar on their shoulders. The now 31-year-old Kohli went down the memory lane and thanked the enigmatic cricketer for his contributions towards Indian cricket. Kohli put forth his thoughts during a chat with Mayank Agarwal, the video of which was uploaded by the BCCI.
Sachin Tendulkar has carried the burden of the nation for 21 years, says Kohli
"My feeling was first of gratitude that we had won the World Cup. I felt absolute joy. But invariably everyone's feeling was centred around paaji (Sachin Tendulkar) because we knew this was his last chance to win the World Cup. Whatever he had done for the country for so many years, number of games he has contributed to India's winning cause," Kohli mentioned.
Earlier, following the epic night in Mumbai, Kohli said how Sachin deserved the honour after carrying the expectations of India on his shoulders for 21 years. "He [Tendulkar] has carried the burden of the nation for 21 years. It is time we carried him on our shoulders," he had told.
"He has given us all motivation and inspiration to so many other kids in India. This was a gift from all of those people to him, because he kept giving, giving, giving for India for so many years before this," Kohli added.
Sachin went on to play 45 matches in the World Cup, scoring 2,278 runs at an average of 56.95 with six centuries and 15 half-centuries. The 2011 edition of the tournament turned out to be a memorable one for him as well. In nine games, he churned out 482 runs at an average of 53.55 with a couple of tons and two fifties.
Follow us on Google News