Expectations will be high on Kuldeep Yadav, believes Zaheer Khan
The left-arm chinaman has been quite impressive with the ball in the imited-over's fomat.
Updated - Jul 28, 2018 12:02 pm
110 Views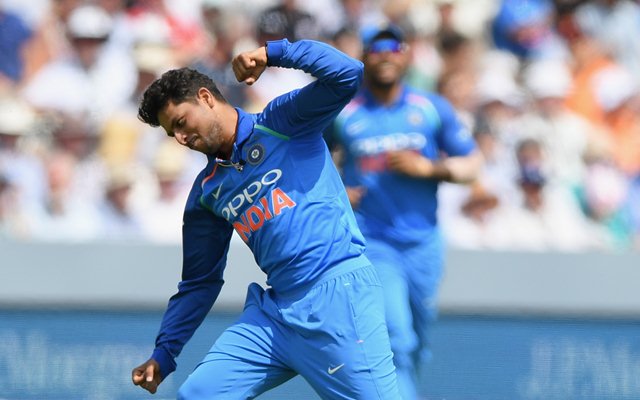 Kuldeep Yadav and his ever-growing fame in the limited-overs game has seen several heads turning. With the ability to bamboozle batsmen at will, it would seem as though the Indian spinner has been quite impressed with the ball. However, now, as a part of the Indian Test squad, Kuldeep will now be expected to play a major role in proceedings as the Test matches unfold.
"Yes, if conditions are hot, it may be difficult for fast bowlers but then you always have the option to play two specialist spinners. If the conditions remain like that, they (Indian team management) might be tempted to play two spinners.
Zaheer went on to add that there would indeed be expectations on Kuldeep, especially after he became the poster boy of sorts in recent times."Why shouldn't there be expectations? The expectations have grown since he has done well at the international level. When you do well, it is bound to happen and he will have to handle that," Khan said in an interview to PTI.
'Expecting India to dominate'
Zaheer also went on to add that he expected India to dominate proceedings, especially since the weather conditions would remain warm or hot for the most bit of the tour. Whether or not Kohli and his men have prepared for the same, remains to be seen. The first Test will begin on Wednesday the first of August in Edgbaston.
"Everyone is saying that this will be the 'Indian Summer' in the UK. I am also expecting India to dominate. But we have to keep in mind that this is a five-Test series. Five-Test series can be very challenging. You need to show a lot of consistency. But what gives me hope is the manner in which they played in South Africa. Yes, they lost the Test series (1-2) but the way the fought back in the final Test was impressive. The energy and approach they showed give me a lot of hope," he said.
Stay updated on 'today's cricket news' with CricTracker.com.