Fans name Vineet Kulkarni the MoM on CSK's behalf after he missed a no-ball call
CSK beat SRH by 4 runs in a last over thriller.
Updated - Apr 23, 2018 5:20 pm
260 Views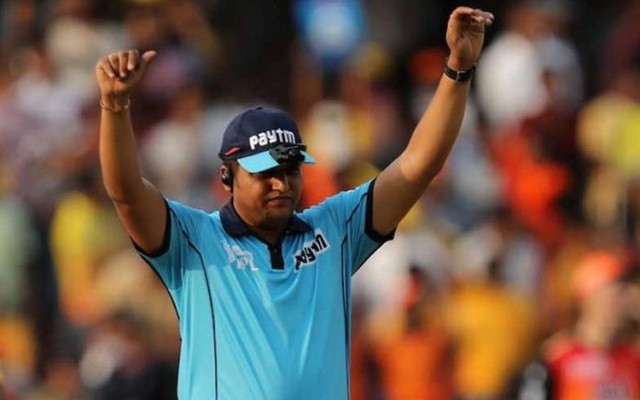 Follow us on Telegram
Chennai Super Kings met the Sunrisers Hyderabad in the 20th match of the Indian Premier League (IPL) 2018. Both the teams have been in a really good touch this season and thus the contest was expected to be evenly fought. It panned out true to the expectations of the fans and went down to the wire. Ultimately CSK won the game by 4 runs but it was umpire Vineet Kulkarni's decision that stole a lot of limelight.
Kulkarni is a very popular umpire in India also for his weakness to crumble under pressure. After the end of 16 overs, SRH had a tall ask ahead of them. They needed 52 runs to win from 24 balls but with skipper Kane Williamson and the big-hitting Yusuf Pathan in the middle, the game was pretty much in balance. Shardul Thakur bowling the 17th attempted a Yorker on the 2nd ball to Williamson and it ended up as a full toss.
It was clearly above the waist of the batsman but the square leg umpire who has the responsibility of keeping a check on the same didn't call it. Kulkarni either missed out on judging the height of that ball or was unsure if it was over the waist. Williamson couldn't believe it and even gestured that it was above the waistline.
SRH didn't get the extra run or the free hit and though Yusuf hit the next ball from Thakur for a huge six over the bowler's head their effort in the end just fell short. Sunrisers needed 19 runs to win from the last 6 balls and Dwayne Bravo gave away 14 thus CSK took the two points and sit pretty at the top of the points table.
However, the decision didn't go down well with the fans who termed Kulkarni the worst umpire, some claimed that he was wearing a CSK jersey inside and a few also stated that he should've been awarded the Man of the Match for doing well on CSK's behalf.
Here are some of the reactions:
The best players for csk tonight…
Vineet Kulkarni and Anil Chaudhary ??????????#ipl #SRHvCSK

— Swatisrichavali (@swatisrichavali) April 22, 2018
Take action on …umpire..#vineetkulkarni..@IPL @BCCI

— abdullah saif (@abdullahsaif006) April 22, 2018
Man of the match goes to todays match umpire also the 12th man of CSK @vineetkulkarni for his brilliant umpiring in not giving NO BALL.

— Satyam Singh (@SatyamS38999816) April 22, 2018
#CSK won by Vineet Kulkarni… Had a doubt he is wearing yellow jersey inside his umpire uniform… #SRHvCSK @balaram_125 @Raj5791 @forwardshortleg @kukki1411 @SunRisers @IPL

— KrishnaTej (@WidishThirdMan) April 22, 2018
I know that it happened in the favor of #CSK but this piece of shit #VineetKulkarni should never take a cricket field again. IPL deserves better than this mofo #BANVineetKulkarni #SRHvCSK #IPL2018

— Chaitanya Somavajhala (@ChaitanSrk) April 22, 2018
What an umpiring by #vineetkulkarni @IPL..Brain happen in the ground or out. #noball @BCCI @ShuklaRajiv

— Nitin Arora (@shankyaro5) April 22, 2018
#SRH lose the match by 4 runs. That mistake of not calling a no ball by the incompetent umpire Vineet Kulkarni cost #SRH the game. #SRHvCSK https://t.co/275EowtYoq

— Aditya (@forwardshortleg) April 22, 2018
Vineet Kulkarni is one of the worst Umpire present right now. Give him an award for the worst umpire… @IPL #SRHvCSK

— Karan Kukreja (@kukki1411) April 22, 2018
Of all dumbheaded persons in cricket that I have seen, vineet Kulkarni tops the list

— Sidheswar Sahoo (@sidheswarcasm) April 22, 2018
Man of the match, Vineet Kulkarni.

— Sandeep Pendyala (@S30238) April 22, 2018
I don't think @SriniMaama16 was upto anything. Being a pathetic umpire comes naturally to Vineet Kulkarni. #CSKvSRH #SRHvCSK #IPL2018

— ஆனந்த் आनंद আনন্দ Anand (@aThakkali) April 22, 2018
That no ball was the difference #CSKvSRH #WhistlePodu to the umpire #VineetKulkarni

— Arun G (@Arun_GP) April 22, 2018
Vineet Kulkarni deserves 100 kicks in his ass?

— Ank Mehta ??? (@Ank_M24) April 22, 2018
Why cant umpires go to TV umpire to check the no-ball…little things make big difference in T20…this one wasnt even close call…so blatant…umpires on Srinu mama payroll#SRh should have had an extra ball with an extra run….when Williamson and Pathan were on song.#SRHvCSK

— Man of Justice (@SuperGops) April 22, 2018
Vineet Kulkarni should have done this. But he chose to become the 12th man for CSK. #SRHvCSK #IPL pic.twitter.com/E7nhGiObPl

— We Are Hyderabad (@WeAreHyderabad) April 22, 2018
Follow us on Google News