Farokh Engineer comes out in support of Sunil Gavaskar over his controversy regarding Anushka Sharma; says Indians lack sense of humour
Earlier, Irfan Pathan had supported Gavaskar.
Updated - Sep 27, 2020 3:05 pm
7K Views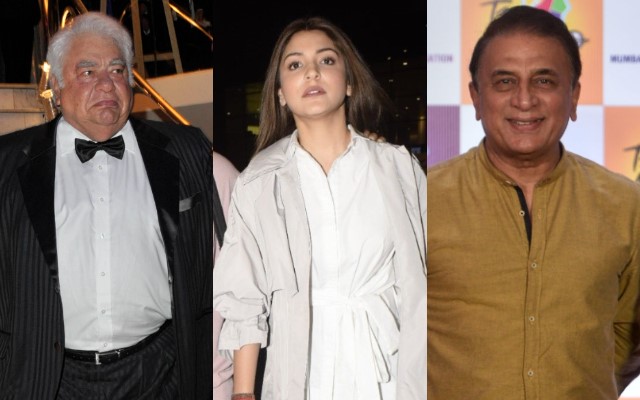 Former India cricketer Sunil Gavaskar came under the scanner a couple of days ago for his alleged derogatory comment on Virat Kohli and Anushka Sharma while commentating in an IPL 2020 game. However, later it became clear that social media misquoted his comment which led to even the Bollywood actress slamming Gavaskar. Rather the likes of Kangana Ranaut and Zareen Khan also took a jibe at the legendary cricketer.
However, since the 71-year-old has clarified his stance while speaking to multiple media houses and then again in commentary the following day, the support for him on social media and the fraternity has increased. After Irfan Pathan, now another former India cricketer Farokh Engineer has come out to speak in favour of Sunil Gavaskar.
He believes that even if Gavaskar has said something to Anushka Sharma and Virat Kohli, it would be in humourous tone and not seriously. He also stated that Indian people lack of sense of humour. "We, Indians lack a sense of humour. If Sunil had indeed said so about Anushka Sharma and Virat Kohli, it must have been in a humorous tone and not in the bad or derogatory taste.
"Knowing Sunil Gavaskar well, I am sure he would have said it jokingly," Farokh said while speaking to Pak Observer. Interestingly, Engineer himself was involved in a similar controversy when he had said that one of the selectors was serving cups of tea to Anushka Sharma during the World Cup.
Even in my case, people took it seriously, says Farokh Engineer
This statement also created a huge controversy as even the then chief selector MSK Prasad also slammed him while the actress herself issued a big statement over her name repeatedly being dragged in cricket related issues unecessarily. Clearing his stance on his statement, Farokh Engineer said that people took his comment the wrong way and consequently, Anushka had to respond.
"Even in my case, people took it very seriously with the result that Anushka had to come out with her statement. Anushka is the beautiful wife of India captain Virat Kohli and why would Sunil Gavaskar or me criticise them," the 82-year-old added.