Fawad Alam loses his cool after reporter asks him about poor record in international cricket
Fawad Alam was visibly looking angry and frustrated before a PCB official intervened to calm the situation.
Updated - Nov 3, 2020 12:35 pm
2.6K Views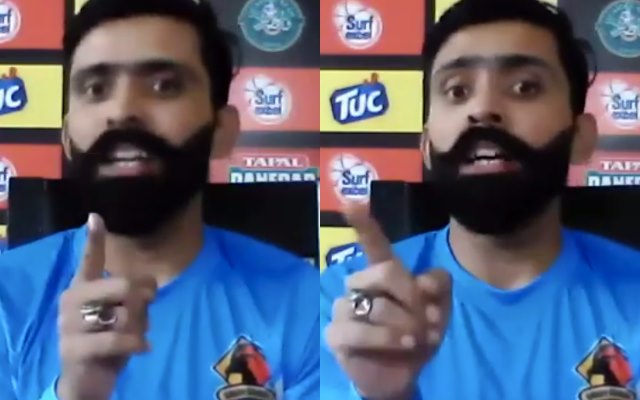 Fawad Alam is known for his calm demeanour on the cricket field but the Pakistan batsman could not keep his cool when he was recently interacting with the media. The journalist asked the batsman about his failure to replicate his domestic cricket performance in international cricket and the southpaw was not at all impressed with it.
Fawad Alam recently returned to Pakistan's Test team after a decade when he was picked for the tour of England. Before playing against England in August this year, his last Test appearance had come way back in 2009. However, Fawad, who scored a century on his Test debut back in July, got chances in Pakistan's limited-overs team after 2009.
Between 2010 and 2015, he appeared in 38 ODIs and 24 T20 Internationals before being dropped. During his time away from international cricket, he scored heavily in domestic cricket which finally paved the way for him to make a sensational return to international cricket. He, however, failed miserably on his return and was out for a duck before scoring 21 in the following game.
Fawad Alam loses cool
Coming to the incident during the media interaction, the reporter told the batsman 'the fire was missing' in him when he was playing for Pakistan. He further asked Fawad whether he has become a domestic-level player as he asked the reason behind his indifference batting display at the highest stage of the game.
"You always score big [in domestic cricket] but recently you got a chance as well [in international cricket] but the way you perform in domestic cricket … the same fire was missing in Tests," the reporter asked.
"What was the reason for that? Is it that after such a long time away from international cricket, you have become limited to a domestic-level player? Is there something amiss?" added the reporter.
Fawad, in reply, made it clear that he didn't like the question as he shot back by saying, "Are you saying that I've become limited to domestic cricket?"
The reporter then told the Pakistan batsman that the question asked by him was not his personal opinion but a growing perception. Fawad was still not impressed with the reporter as he told him, "First, you clarify whether the people are saying that, or are you?"
The batsman was visibly looking angry and frustrated before a PCB official intervened to calm the situation.
It is pertinent to mention here that Fawad, arguably Pakistan's greatest and most successful batsman in domestic cricket, had been inexplicably shelved for almost 10 years by a host of coaches, chief selectors, and captains. The decade-long snub finally ended this year when he was given a chance on the tour of England in the face of intense criticism from the public as well as media personnel from his home town.
Unfortunately, he did not live up to the sky-high expectations in his sole Test in England, getting out for a duck in one outing and scoring a mere 21 in the other innings.
Here is a clip of the exchange