From Rajasthan to Delhi: Journey of Kulwant Khejroliya
Kulwant was able to make his way into the Delhi team without any prior competitive cricket experience.
Updated - Dec 23, 2017 5:13 pm
8K Views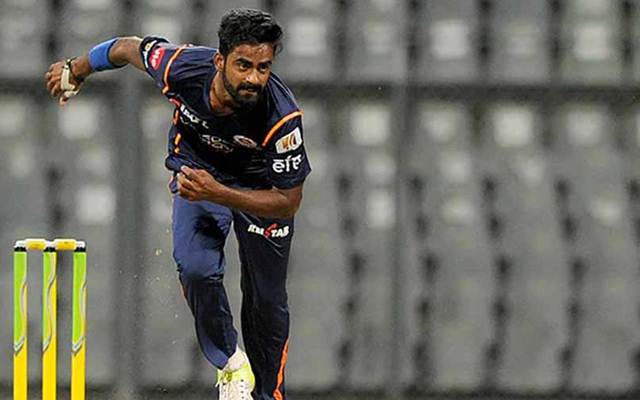 "A journey of thousand miles begins with a small step." Kulwant Khejroliya may not yet be a prominent figure in the domestic circuit but has surely caught the eyes of seniors at the fabled LB Shastri Academy. Players like Gautam Gambhir, Sanjay Bhardwaj and Atul Wassan are all associated with the academy.
How did this young boy from Ajitgarh make his way into the Delhi Side? Kulwant was from a lower middle class family whose parents wanted him to complete his education and secure a well-paid job. However, his interests lay elsewhere.
After failing to clear the railway examinations a couple of times, Kulwant was dejected. For a change, he made a trip to Goa where he served as a waiter at a local restaurant for six months. One of his friends saw his cricketing talent and insisted him to take a chance at the LB Shastri Academy in Delhi and that trip had made all the difference.
Impressed Gambhir
Gambhir had many memories associated with the academy as his cricketing journey began right there 18 years ago. He faced Kulwant in the nets during one of his visits in the off-season. Usually, players who had a couple of good performances under their belt in junior cricket appeared for the Ranji trials. But Kulwant was included on Gambhir's insistence.
"We had no clue who he was. All the others at the trials were either either from U-19 or U-23 levels, but this guy was not in the junior circuit, and only later did we come to know that Gambhir wanted him in the trials after facing him in the nets at the LB Shastri Academy," Atul Wassan, former Indian cricketer was quoted as saying by Indian Express.
The young man from Rajasthan did not disappoint the selectors as they were surprised by his ability to run in and move the ball at a good pace. However, inducting him into the senior team right away was not an option as fresh and raw talents must be groomed and trained so that they perform to the best of their ability.
"We liked what we saw at the trials, and knew Gambhir was a good at spotting talent. But we did not want to expose him to the rigours of four-day cricket, as he had no prior experience of playing competitive cricket at any level," Wassan added.
List A debut, IPL contract
Eventually, Kulwant was selected and was trained under the watchful eyes of Sanjay Bhardwaj and Atul Wassan. Kulwant's services were used only in the nets as he was not selected for the Ranji squad last season. The management felt that bowling at the nets coupled with tons of practice sessions can help the boy settle down before his launch to the senior team.
His big break came in the Vijay Hazare Trophy 2016 where he made his List A debut. His cricketing career took another big step when he was picked up by Mumbai Indians at a base price of INR 10 Lakhs.
Kulwant believes that performing at higher levels was directly attributable to maintaining high fitness levels. He was rewarded with a place in the Delhi's Ranji team this season owing to his progress in the nets and has been a regular in the playing XI since then.
He along with Navdeep Saini have been instrumental in taking Delhi to the finals of the much coveted Ranji Trophy. The six wickets that he took in the semi-finals against Bengal was his best performance. Kulwant had to make it count as he knew such opportunities are rare and a player has to make the best of it.
The pacer may not be a 'finished product' yet but he certainly has taken giant strides in his career. He has to repeat such performances more often so as to cement his place in the side. It remains to be seen whether the left-handed pacer can take Delhi all the way on to win the Ranji Trophy.