It's game on for us: Justin Langer
Updated - Jun 20, 2016 1:27 pm
32 Views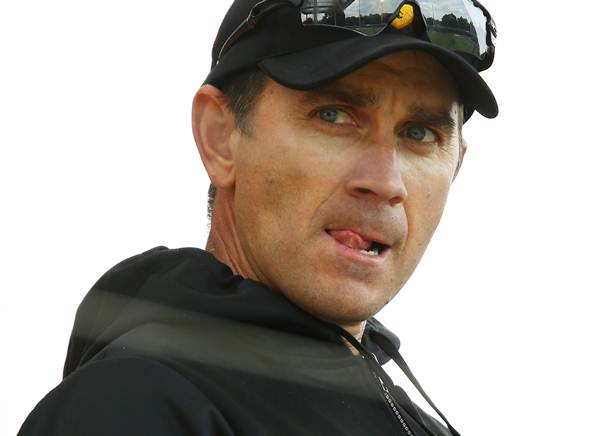 Interim batting coach for the Australian side on the tour Justin Langer has stated that it is certainly game on for the Australians after the washout in the previous ODI against South Africa at Barbados. The result saw the Aussies and Proteas share the points after jus the one over was bowled in the match. The rain failed to reduce as the match was eventually called off and subsequently abandoned.
"It's game on. We haven't done ourselves any favours in a sense that we haven't got ourselves automatically into the final like we would have liked, so it's good to see guys under pressure. And this will be a little bit more pressure than a normal one-day international on Tuesday," he added.
Langer added that it was important to show no emotion when they play the West Indies soon after and go for the kill."If we beat (the Windies it will be) on skill, not emotion, and not getting caught up in the actual game. Sometimes in big games what you tend to do is over-analyse it. You want everything to be perfect but often … the less you can put in their mind, the more you can just let them go and play (the better)," Langer added.
"We don't have team meetings in Twenty20 cricket (with the Scorchers). We might have one or two dots up on the board.
"And people will talk about all this analysis of different oppositions. Well, I must be doing it wrong at the Scorchers, because we tend to go the opposite way. We want to simplify it, particularly for young minds. And for senior players, they've been there before. We don't need to complicate it for them. They've got their cues, they know their processes. So we'll just try and keep it as simple as possible and hopefully they can go out and play and enjoy the experience of playing at this magnificent ground (Kensington Oval)," he added.
Speaking about the form of 23-year old leg-spinner Adam Zampa, Langer stated that it was important to simplify younger minds in cricket. "I think he's been pretty good. He probably just got his lines a bit wrong the other night," the coach said. "He went a bit wide and with some of those big West Indians, if you just get it in their arc as we saw, they're going to belt you out of the ground. But he's learning and he was the first to admit after the game that he perhaps didn't get his strategy right. And he's usually really good, he's a really competitive young bloke," Langer noted.
"We'll work out what the best way to beat the West Indies is. Whether it's with a leg-spinner or four quicks – which is always so successful in Australia for us – we'll work all that out in the next 24 hours," Langer concluded.