I am very happy that Kumble is pleased with my bowling: Mohammad Shami
Updated - Aug 7, 2016 8:49 am
36 Views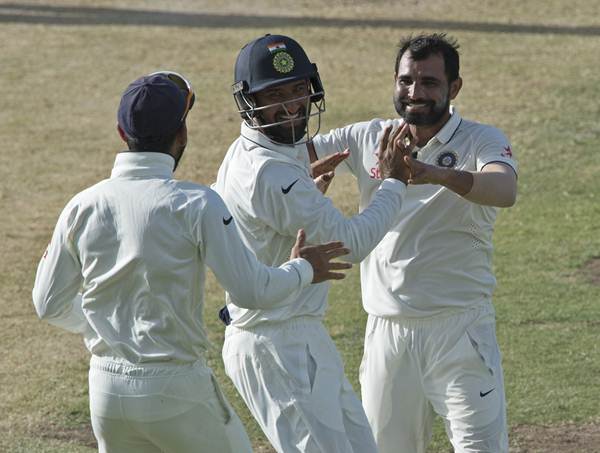 Indian pacer Mohammad Shami right from the very start of his career was looked at with a lot of expectations since he had the potential to end up as one of India's greatest fast bowlers. He was spot on to start with picking wickets and winning India games but then injuries hampered his career and he was out on the sidelines rehabilitating for most part of 2015 and the first half of this year. Now that he has recuperated and has been in fine form since return a lot is expected from the right-arm fast bowler.
Shami has been bowling at some pace in the ongoing West Indies series and with consistent outside off-stump lines has been forcing the batsmen to commit mistakes. He has time and again surprised them with a well-targeted bouncer; good enough to rattle the best of players.
In an interview with BCCI.tv while Shami said that he was pleased to learn that the Indian coach Anil Kumble praised his bowling effort on the 4th day. "I am very happy that he is pleased with my bowling and has shown confidence in my abilities. When I bowl, I look to keep it close to the batsman and make him play as much as possible with both the new and the old ball. If you bowl wide and the batsman lets the ball go, you end up wasting time and we did not have much time in the second match due to rain. "
He also said that a fast bowler needs time to get back his rhythm coming back from an injury. "It is not easy for the fast bowler to bowl with the same rhythm post injury, but you have managed to do that after injury, I could not walk and was on crutches for two months. I had decided that in my comeback game for India, I should have the same bowling rhythm as my last game. It required a lot of hard work." Shami said.
Players coming back from an injury are usually careful and don't want to push themselves a bit just out of the trauma of the injury and to make sure it doesn't reoccur but Shami has looked to bowl at his 100 percent the moment he stepped back on the field. "I had taken so much load in the last eight months that fear inside me was killed. Nothing scared me anymore. I gave it all in my rehabilitation and thus was fully prepared for the first Test in Antigua."
"We lead the series 1-0 and our confidence is high. In the remaining two Tests, we will look to win and extend the lead. On the last day, the track had gotten slow and the West Indies batsmen batted really well." He said while talking about the team's preparation for the 3rd Test.
The Indian team has opted for the aggressive option of going in with a 5-bowler attack which comprises of three pacers and two spinners. How does he look at it? "It is a very good combination with three fast bowlers and two spinners. It gives an opportunity to all the bowlers to have breaks and take a breather. We are putting in a lot of efforts and the results are definitely showing."
How does he plan to manage his workload, given that the team is set to play some 15 Test at home along with the odd limited overs series? Shami said, "Yes, it's a long season and managing the workload is going to be very important. What you do during breaks and off days will count. For a fast bowler, it is important that he works on his recovery sessions and stays fit."