Happy to read that Patrick Patterson is fine, says Winston Davis
The former pacer watched the action on Day Two of the ongoing pink ball Test at Edgbaston unfold.
Updated - Aug 20, 2017 8:56 pm
186 Views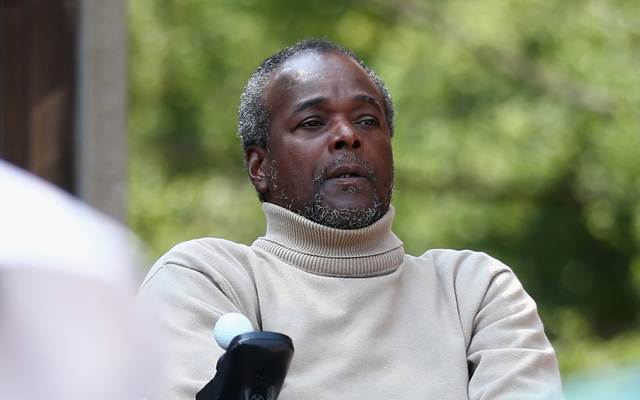 Follow us on Google News
West Indies speedster Patrick Patterson, once known for terrorizing batsmen in the late 1980s and early 1990s with his lethal bowling, was in the news recently when a journalist finally found him after chasing him across three tours to the Caribbean. There were rumours about Patterson being lost and even admitted into an asylum in Jamaica until the writer met him in Jamaica, rubbishing all rumours about him being lost.
While Patterson was coming to terms with the fact that his playing days were over, his former fast bowling colleague Winston Davis, far away in Worcester, was fighting another hard battle – the one against paralysis — caused by a branch of a tree falling on his neck 20 years ago while helping build a church at St Vincent in the Caribbean.
Patto, well and fine
Davis is paralysed neck down but still moves around at his Bewdley home in a wheelchair. Recently, this writer emailed the article written on Patterson to Davis.
"I'm really happy to read that Patto seems fine and in good health. Of course, there were rumours flying around (of being lost and put into an asylum), but it's good to see that someone took the trouble to inquire about him and eventually meet him," said the 59-year-old, as reported by mid-day.
On being asked whether he too thought that Patterson was lost and in a poor way, Davis said, "I didn't think about anything. I had my own crisis to deal with. I hope Patto is accorded the respect he got while he was playing for the West Indies and that he enjoys the rest of his life."
He played 15 Tests and claimed 45 wickets while his best performance in one-day cricket was a spell to remember when he took 7 for 51 against Australia in the 1983 World Cup at Leeds.
"Patto was one of the best fast bowlers produced by the West Indies. Lots of people make too much about pace. Well, it's advantageous to have genuine pace, but if sighted early, you can negate pace. Patto had pace and could be deadly on his day on fast pitches," said Davis.
On Day/Night Pink Ball Tests
The former pacer watched the action on Day Two of the ongoing pink ball Test at Edgbaston unfold. Even though West Indies were not in a position to be happy about, many cricket greats other than Davis were present. Sir Viv Richards, Sir Andy Roberts, Sir Richie Richardson were the others.
"I was there for around four hours and from where I was sitting I didn't find much of a difference between playing with a pink ball and a red one. But going by all accounts, there will be some increased interest in Test cricket. In England, you don't get too much darkness, but in Australia it's different. The concept is interesting," said Davis.
Follow us on Telegram