Hardik Pandya backed by Virat Kohli to perform in crisis
Virat Kohli confirmed that there would no changes in the team.
Updated - Jun 18, 2017 12:09 pm
3.2K Views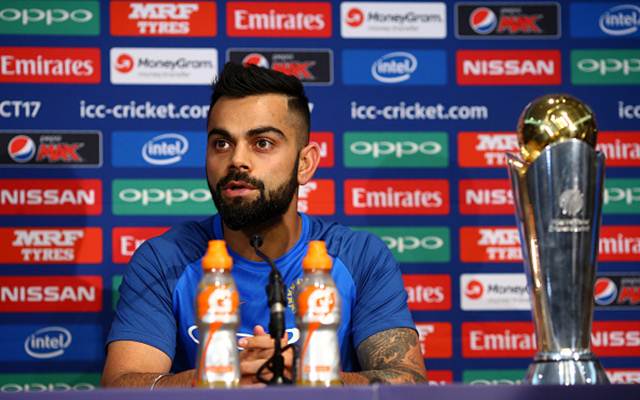 In the opening match of the tournament, Indian skipper Virat Kohli had to make the tough decision between Hardik Pandya and Ravichandran Ashwin against arch-rivals Pakistan, but the Indian skipper had his confidence on Pandya, and the rest was history.
Hardik Pandya is a 'priceless' player who can provide the match-winning inning in any match he has been picked according to the Indian skipper. Virat Kohli further suggested that the all-rounder was responsible for maintaining the balance in the side, with Kedar Jadhav being the other all-rounder.
Pandya's most influential performance in the tournament to date came in the match against arch-rivals Pakistan where the all-rounder scored an unbeaten six balls 20 runs and backing it up with some sturdy bowling. While he hit a quickfire 20 against Pakistan, he made nine runs in five balls to help the team to a quick-fire finish.
"I would back a guy like Hardik who provides you so much balance in conditions that he can be effective as a bowler and his batting is priceless," Kohli said. "If you're chasing a total and you need eight an over and you've lost wickets, he's a guy who can still win you the game. He can give you a match-winning performance in any game that he plays. As a fielder, as well. It's very hard to find a package like that.
Hardik Pandya's value addition to the team
Kohli was adamant that the value of Hardik Pandya in the team could never be under-estimated, while the all-rounder comes up with match-winning performance both with the bat and the ball.
"That's the kind of belief he has in his ability and we have that belief in him. You need to back guys like him on a regular basis and you will get those results where the team is in crisis and he stands up and gives a match-winning performance." he continued.
"So far he's been really good in the tournament. When he bowls well, it's a total relief for me as a captain because he can get you seven good overs. He can get you a couple of wickets, as well, and then with the bat and the field we know what he can do." he further added that his bowling would help the team as well.
Virat Kohli further confirmed that there would no changes in the team, in particular, Pandya would not be dropped from the side which would cause an imbalance in the playing XI.