Hardik Pandya recalls the moment when MS Dhoni had reprimanded him
"After getting Lynn out, I still remember I got over-excited. Mahi bhai then said 'you are doing this thing for the last time because you will get banned plus the team will lose a player. So we don't want that'," recalled Pandya.
Updated - Dec 4, 2017 2:37 pm
5.6K Views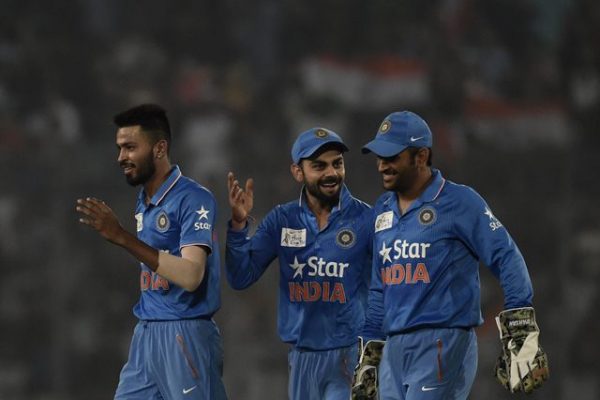 Ace Indian all-rounder, Hardik Pandya, has already made a big reputation for himself in the international cricket. Pandya is one of the cleanest hitters of the cricket ball in the current setup. Recently, in an episode of Breakfast With Champions, Pandya recalled the time when he made his international debut for India.
In a very candid moment, Hardik Pandya told Gaurav Kapoor about an incident that perspired on his debut. He was smashed for 21 runs in his very first over. Despite that, the then Indian captain, MS Dhoni, called him up to bowl the second over. On the very first ball of the second over, he was hit for another six. He was totally taken aback by the onslaught.
However, he held his nerves and eventually returned with 2 wickets to his name in 3 overs with under 40 runs conceded. Pandya noted that the way MS Dhoni handled him was really special. Moreover, when he had dismissed Chris Lynn, Dhoni had calmed him down for getting over excited. Dhoni made him understand that he should control his emotions on the field.
"It was nightmare, giving 21 runs in my first international over. First time in my life I was blank, I didn't know what to do. But Mahi bhai being a legend said 'aaja doosra over daal' (come, bowl another over). I went for 6 runs in the first ball and it was like 1.1 overs and I went for 28 runs. But after that I gave only 7-8 runs in two overs and took two wickets. He (Dhoni) didn't say anything but I still remember in the post-match press conference, he said 'I knew that after the first over, he will be a better bowler for sure'," quoted Hardik Pandya.
"After getting Lynn out, I still remember I got over-excited. Mahi bhai then said 'you are doing this thing for the last time because you will get banned plus the team will lose a player. So we don't want that'. I was like 'ya sorry'. I might be the first player to get ICC Code of Conduct warning in the first international game. I just thought after that 'for a couple of slangs, I won't lose money, it's my hard earned money," recalled Pandya.
On his maiden Test ton
By the look of things, one would easily assume that Hardik Pandya is perhaps only suited for the shorter formats of the game. But the Baroda boy has a Test ton to his name. During the recent India's tour of Sri Lanka this year, Hardik had slammed his maiden ton that came off just 86 deliveries. It was the fastest century by a number 8 Indian batsman in the Test cricket.
Recalling the moment, Hardik mentioned that he had lost his sleep on the eve of his Test. He was anxious since he had got out in the similar fashion in the previous games. He did not talk much on the match day and the moment he saw fielders on the boundary lines, he went all guns blazing. The move worked perfectly for him in the match.
"I was not able to sleep the previous night till 3. My anxiety level was very high because I had previously got out to the same bowler and I was furious then. I usually don't think much when I get out but if I lose my wicket in a certain way, I think a lot," said Pandya.
That morning everyone noticed that I wasn't talking to anyone and only warming up. It was like in 10 minutes, I asked 5-6 times about the start of play and as soon as the umpire signalled, I went out and it was only then that I calmed down. I remember all the fielders were at the boundary only and I was like, 'bro, I am going all guns blazing'," the Indian all-rounder added further.
On his new hairstyle
When asked to reveal the reason behind his current hairstyle, Hardik Pandya noted that it was all because of Shikhar Dhawan had he had his hair shaved off from one side. He mentioned that he had asked Shikhar to only trim it a little, but the latter ended up trimming it all!
"I asked Shikhar to remove a bit of my hair but he removed it all. I was like it's alright. I am pretty confident that I can carry it so it's okay," Pandya remarked.