Harmanpreet Kaur becomes the first Indian women cricketer to sign a bat endorsement deal
CEAT has confirmed a 2-year deal with the Indian superstar.
Updated - Jan 22, 2018 5:34 pm
697 Views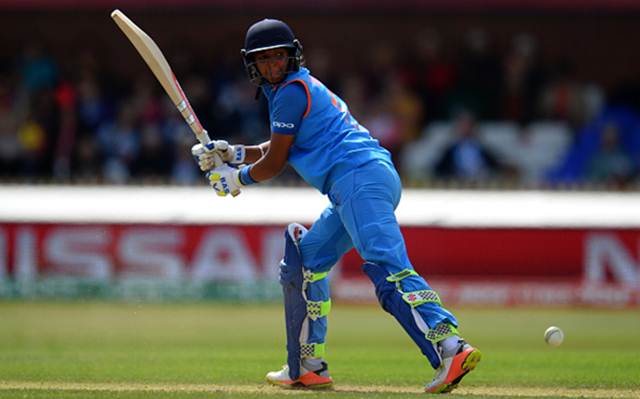 India Women's team star Harmanpreet Kaur gained the limelight after her heroics at the World Cup last year. The 28-year-old has been in the news recently following a few impressive exploits in the Women's cricketing circuit in recent times.
She played a crucial role in guiding the Indian team to the finals of the World Cup. In addition, she scored 171 runs against Australia in the semi-final last year, something that was commended by one and all.  Following her stupendous performance, she was also bestowed with the Arjuna award apart from becoming the first Indian woman to sign a deal with the Australian Big Bash League.
Harmanpreet Kaur strikes a golden deal
Harmanpreet signed a two-year deal with CEAT on Monday thereby becoming the first woman to sign a bat sponsorship deal similar to her male counterparts. She joins the likes of Rohit Sharma, Ajinkya Rahane and Ishan Kishan who all have bat endorsement deals with CEAT. She will now be seen playing with a bat prominently displaying CEAT insignia in all formats of the game.
Speaking about the deal in a press release, she said "I am delighted to be associated with CEAT that is already represented by icons of Indian cricket. Taking the momentum of 2017 forward I look forward to putting in consistent performances for the team this year".
The womens' team vice-captain had a golden run with the bat last year. She was very consistent in all the formats of the game. Vice President Marketing, CEAT Limited, Nitish Bajaj said that "The Indian Women's cricket team has been performing brilliantly over the years and we at CEAT strongly believe in supporting the sport. We are proud to sign Harmanpreet Kaur as our first women cricketer on board, who has been an inspiration to budding cricketers on and off the field".
The deal comes almost a year after the Indian women's team returned from a successful World Cup campaign. The players had been vocal about not getting endorsement deals. Let us hope that this just the start of good days in women's' cricket and lot many other cricketers also strike deals like this.