Harvik Desai resembles MS Dhoni's style behind the wicket; impressed Twitterati
The Saurashtra Boy's keeping style is being compared to that of the legendary MS Dhoni.
Updated - Feb 4, 2018 4:58 pm
7.6K Views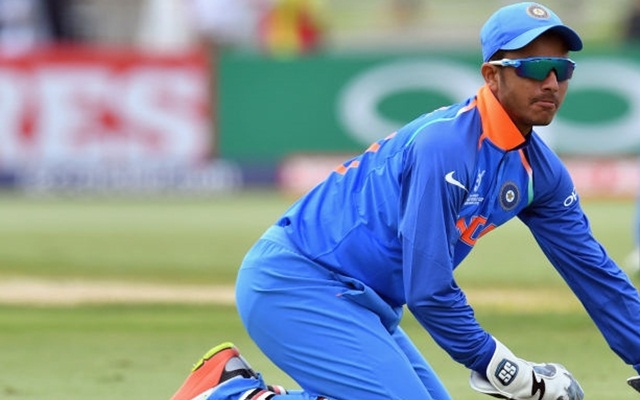 The glorious Indian U19 World Cup campaign in New Zealand saw them lift the prestigious title for a record fourth time. The Indian colts displayed remarkable skills in all departments of the game. The likes of Prithvi Shaw, Shubman Gill and Manjot Kalra are being touted as the stars of the future. However, Harvik Desai's stupendous performance with the gloves has not gone unnoticed either.
Desai has managed to draw attention with his wicket-keeping technique which is being dubbed as`Dhoni-esque'. Mahendra Singh Dhoni has eked out his own unique style of keeping wickets and his alacrity and swiftness is a cut above the rest. MSD's uniqueness lies in his ability to pull off sensational stumpings at lightning speed. His trademark flick onto the stumps behind him is a rare and unimaginable piece of pure genius.
Desai's safe work behind the wickets was a blessing for India as he kept with skill and snapped up most of the opportunities that came his way. Even in the summit clash, he was at the top of his game. His unbeaten 47 knock worth in the finals further reinforced his value in the team with the bat as well. Desai's dive to catch Jason Sangha of pacer Kamlesh Nagarkoti was one the highlights of the first innings. 
India's victory in the finals made the Twitterati go berserk as the plaudits kept on pouring for the 'Boys in Blue'. The victory seems even sweeter as it was a complete team effort. Apart from the batsmen the Pacers, as well as the spinners, rose to the occasion when it mattered the most. Desai's surety behind the stumps made the job of the bowlers a little easier. He may not have grabbed all the headlines but has surely attracted his share of eyeballs.
The young keeper also was seen sticking out his leg in an attempt to stop the ball as Jonathan Merlo tried a reverse sweep off Abhishek Sharma which was`Dhoni-esque' in the truest sense. With MS Dhoni at the twilight of his career, the onus would be surely on Harvik to step up and try to get into the senior team.
Here are some of the tweets that equated Desai with Dhoni:
Harvik Desai is the one to look for as https://t.co/JBa2gMgdEV times when India is looking for a keeper after MS Dhoni he has been impressive behind the stumps. #INDvAUS #U19CWC

— UDIT (@udit_buch) February 3, 2018
HARVIK DESAI can be our next Dhoni in wk?

— Sush? (@Cricketisluv) February 3, 2018
Desai was trying to like Dhoni.#U19CWC #IndvAus #INDvsAUS #ICCU19WorldCup

— Anshul Chavhan (@anshul_chavhan) February 3, 2018
Harvik Desai is really following #Dhoni Wicket keeping skills?.#IndVsAus #U19CWC #under19worldcup #FutureStars pic.twitter.com/DZfyF9XZZf

— Ravi Rabari ?? (@ravirabari99) February 3, 2018
WATCH: Top work by Harvik Desai behind the stumps to send Australia captain Jason Sangha back for 13!

▶️ https://t.co/qIP1FfN3Kz#AUSvIND #U19CWC pic.twitter.com/he5aTtGWPn

— Cricket World Cup (@cricketworldcup) February 3, 2018
HM Desai current U19 Wk is definitely immitating Dhoni while standing up to the stumps #CWC19 pic.twitter.com/sBiMsWegQV

— pavan (@saipavandarsi) February 3, 2018
Good to see Harvik Desai using Dhoni's technique ?#U19CWC #AUSvIND #INDvAUS pic.twitter.com/ID6jP9IFxi

— CricCrazy DV ??? (@deepakv712) February 3, 2018
Lot of talks happening about Prithvi Shaw, Shubman Gill. But can we see Harvik Desai as a perfect wicket keeper batsman India is looking for after M.S.Dhoni @vikrantgupta73

— Kapil Singh Rathore (@kapilsingh_19) February 3, 2018
Dhoni's style of finishing tournament with 4 by Harvik Desai.
India lift U19 worldcup. Proud of you #RahulDravid sir. ?????????????????? @BCCIdomestic

— Bhargav M (@bhargav811994) February 3, 2018
Harvik Desai bada hoke Dhoni banega

— Supreeth Mohan alias SuMo (@supreeth28) February 3, 2018
Harvik Desai is really following #Dhoni Wicket keeping skills?.#IndVsAus #U19CWC #under19worldcup #FutureStars pic.twitter.com/DZfyF9XZZf

— Ravi Rabari ?? (@ravirabari99) February 3, 2018
@cricbuzz Harvik Desai is really following Dhoni keeping skills.. #backthrows #stumping

— sanjeev07 (@sanjeev0713) February 3, 2018
HARVIK DESAI can be our next Dhoni in wk?

— Sush? (@Cricketisluv) February 3, 2018
#INDvPAK Good stumping of Dhoni style by Harvik Desai as Pak now 68/9 . Well done boys….

— Totlani Krishan (@kktotlani) January 30, 2018