He's still the same Dinesh Karthik, nothing has changed: Abhishek Nayar
The 33-year old has now become one of the most important figures in the Indian squad.
Updated - Jul 25, 2018 1:11 pm
163 Views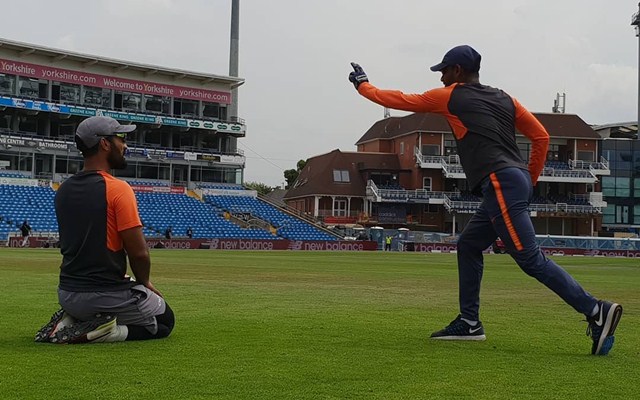 Follow us on Google News
While Dinesh Karthik is en route to once again becoming India's number one wicketkeeper in Test cricket, a certain Abhishek Nayar is the man behind the scenes taking credit for the foundations that resurrected the 33-year old's career quite nicely, so to speak. Nayar, who had worked with Karthik during the darker days of his cricketing career has stated that the Tamil Nadu batsman has become a lot more mature than he previously was.
Prior to his appointment as KKR skipper earlier this year, Karthik was in a depressed state. In fact, such was the impact of his problems that he eventually approached Abhishek Nayar who brought him out of the mess almost instantly.
Speaking in an exclusive interview with Sportskeeda, Nayar said. "Well, to be honest, do I see any changes? Not really. I think he's still the same Dinesh Karthik that hasn't changed. Yes, if there are some changes, he's become little more mature, he understands his game a little more, but I feel the work we did together, I spoke a lot about it, but to keep it brief I think it was more about making him understand his potential, making him understand what he can do, he can't do."
"He's still the same Dinesh Karthik, nothing has changed. He's still gonna make mistakes, he's still gonna do well at times, but I feel the consistency in the past two-three years has been tremendous and a lot of credit goes to him for his own preparation, his own belief in believing what we said could've helped him. I think for a cricketer it's really important to believe in whatever he's doing and you know for someone who's trying to help someone, the other person doesn't believe in you it becomes very difficult to help him."
'Tweaked certain aspects of his game and thinking'
Nayar also revealed that he did indeed help Karthik change the mental aspect of his game. "So, I feel in terms of what we did, we did a lot of different things where I felt I could've tweaked his game a bit, his mental aspect, make him feel better about himself, his own preparation and I think it's a team effort altogether, so it's not about what I did, it's also what Dinesh Karthik has brought to the table as a cricketer."
Stay updated on 'today's cricket news' with CricTracker.com.
Follow us on Telegram