'I am going to tell TikTok to block you' – Chris Gayle to 'annoying' Yuzvendra Chahal on social media
Earlier, Virat Kohli had called Chahal 'clown' over his funny videos on TikTok.
Updated - Apr 26, 2020 11:30 am
1.8K Views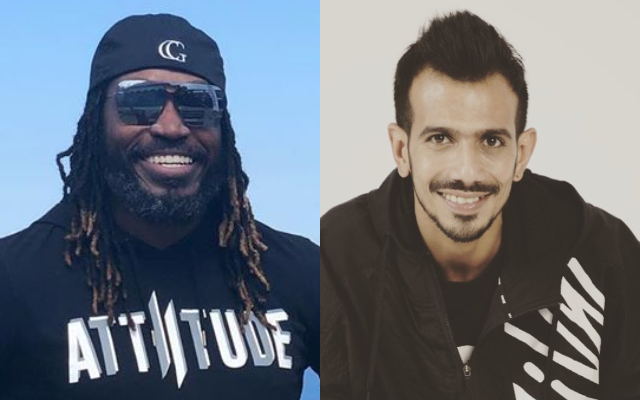 The Coronavirus enforced lockdown has started to frustrate many. And one of them is India leg-spinner Yuzvendra Chahal who has spending time on social media. Rather in a recent chat on Insta live he went on to say he will live in a nearby hotel but not go home for next three years once the normalcy resumes. Moreover, he has been posting some hilarious videos on Entertaining social platform TikTok too.
Chahal has also included his family in some of the videos and has left the fans in splits. However, the Universe Boss Chris Gayle is annoyed with the leggie's constant presence on social media and TikTok. Both the former Royal Challengers Bangalore (RCB) teammates went live on Instagram on Saturday and spoke about the different aspects of the game and the current situation while also having some fun like they do on the field.
During the friendly chat, the Caribbean superstar took a hilarious dig at Yuzvendra Chahal over his funny videos on TikTok and other social media platforms. Gayle told him to get off the social media right away and also said that he will be instructing TikTok to block the Indian cricketer soon.
"I am going to tell Tik Tok to block you as well, seriously. You are very annoying on social media man. You need to get off social media right now. We are tired of Chahal. I don't wanna see you in my life again. I am gonna block you," Chris Gayle said.
Virat Kohli had also taken a dig at Yuzvendra Chahal over his videos
Even the Indian skipper Virat Kohli had called Yuzvendra Chahal 'clown' for his recent videos on TikTok during his chat with the former South Africa cricketer AB de Villiers. Interestingly, these three cricketers play together for the RCB in the IPL.
"Go and check out Yuzvendra Chahal Tik Tok videos. You will not believe that this guy is playing international cricket. He's 29-years old. Just go and check his videos. He's an absolute clown," Kohli had said.