'I don't think Kapil Dev understood what I was trying to say' – Shoaib Akhtar on the former's 'We have enough money' comment
Shoaib Akhtar also claimed to know India more than Pakistan's current PM Imran Khan.
Updated - Apr 12, 2020 11:17 am
77.7K Views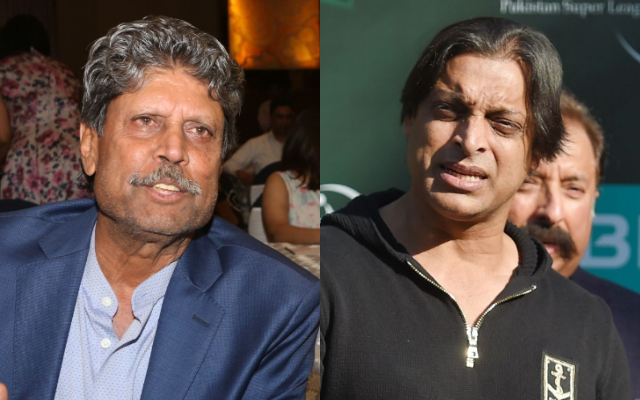 Follow us on Telegram
Former Pakistan cricketer Shoaib Akhtar has been on the receiving end a bit for proposing a India-Pakistan charity series in Dubai amid the Coronavirus pandemic. Not only, the former Indian players, even the likes of Zaheer Abbas and others from Pakistan have made it clear that the series won't happen. Moreover, Kapil Dev was the one who came up with a stern comment stating that India has enough money and they don't need a series to happen.
He felt that organising cricket matches in these alarming conditions will only put the players in risk. Kapil also went on to say that it isn't worth a risk as only a three-match series won't make much of a difference in terms of raising money while also adding that no cricket should be played for five to six months.
However, Shoaib Akhtar feels that India's World Cup-winning skipper didn't understand the perspective with which he proposed the series. He seemed pretty confident about generating revenues as the audience will be definitely engaged only if a solitary match between India and Pakistan takes place.
Shoaib Akhtar confident of his suggestion
"I don't think Kapil Dev understood what I was trying to say. Everyone is going to be trapped economically. This is the time to put our heads together and generate revenues. I'm talking about the larger perspective, about economic reforms. The global audience would be hooked by one single match, it will generate revenues.
Kapil said he doesn't need the money and he surely doesn't. But everyone else does. I think this suggestion will come into consideration soon," he said while speaking to Aaj Tak. Shoaib Akhtar also claimed that he knows India more than Pakistan's current Prime Minister Imran Khan and added that both the countries are suffering due to poverty.
"I had said that I know India more than even Imran Khan himself. I have travelled to many areas and interacted with many people there. I keep telling people here what Indians are all about. Our countries have a lot of poverty. I am saddened when people are suffering. As a human and as a Muslim, it is my responsibility to help as much as I can," the 44-year-old further said.
Follow us on Google News