'I feel this statement is comic'- Rajeev Shukla on Shoaib Akhtar's suggestion to organise an Indo-Pak ODI series
Earlier, Kapil Dev had also denied any such possibility in strong words.
Updated - Apr 10, 2020 10:13 am
441 Views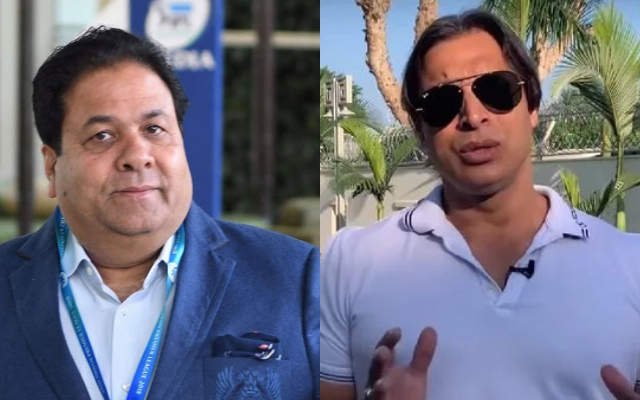 Shoaib Akhtar, the former Pakistan fast bowler recently suggested a fund-raising ODI series between India and Pakistan. Afterwards, he had to face the heat of cricket fans and even the likes of Kapil Dev and Zaheer Abbas among others didn't support his idea. Now Rajeev Shukla, the former IPL chairman also has hilariously trolled him saying that he is a jolly man.
Coronavirus outbreak has brought sporting activities to a halt. The pandemic has made conditions quite worse for human beings on earth. The governments have issued lockdown in the countries in order to stop the transmission of the killer virus that has taken more than 89,000 lives across the globe. While the situation is similar in India and Pakistan, Shoaib Akhtar's proposal to organise the ODI series hasn't found many takers.
Shoaib Akhtar is a jolly and moody man, says Rajeev Shukla
On Thursday,  Rajeev Shukla, the former IPL chairmen said that everyone knows that Shoaib Akhtar is a very moody man and he always comes out with some hilarious suggestions like now. He also took a dig at him stating that if the 44-year-old is talking about playing cricket under such alarming conditions then it is just a matter of fun.
He also pointed out the way BCCI is having problems to organise a league like IPL and questioned if the people or even the players will risk their lives looking at the current situation. "Shoaib Akhtar is a jolly and moody man everyone knows it. Time by time he keeps giving such suggestions and ideas. At this stage, if he is talking about a cricket match between India and Pakistan to raise funds to help both the countries. So, I feel it is a matter of fun.
"We are not even able to organise IPL, who will come to watch that match who will allow players to come and play," Rajeev Shukla said as quoted by India Today.
The 60-year-old recited that India and Pakistan don't play bilateral series. He also highlighted the conditions in both the countries due to the Coronavirus. In the end, Rajeev Shukla concluded by saying that it is just a comical statement and nothing more.
"India-Pakistan don't play in bilateral series, who will organise this match at this current situation of the country is not good and in his country situation is even worst so how can match happen so I feel this statement is comic," he added.