'I knew it was the last chance for me' – Rohit Sharma on agreeing to open in Tests in 2019
Rohit Sharma scored a classy 127 to put India in a strong position.
Updated - Sep 5, 2021 10:42 am
970 Views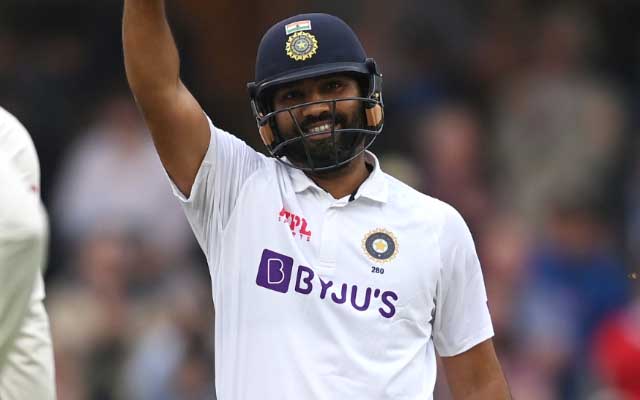 Follow us on Google News
Rohit Sharma finally got the monkey off his back when he got to his first overseas hundred in the ongoing fourth Test at The Oval against England. It was not a typical attacking innings from the right-hand batter as he had to bat patiently to get to his eighth hundred. It was also his slowest Test hundred with a strike rate of below 50.
But things didn't seem so rosy for Sharma in the year 2019. The 34-year-old scored runs for fun during the ICC Cricket World Cup in 2019 and that made the Indian selectors and management give him another chance in the longest format, this time at the top of the order.
Rohit Sharma has admitted he knew this was his last chance to prove his worth in red-ball cricket. Till now, certainly, the right-hand batter has not disappointed and has established himself as a good player in the Test circuit too. Speaking at a press conference after the conclusion of Day three, Sharma recalled the moment during 2019, when he was offered to open the innings – the position where he has excelled in the white-ball formats.
He further opined that if he had not taken the chance, then anything could have happened. "In the back of my mind, I knew it was the last chance for me as well, trying another position in the batting order. When the offer came to open the batting, I was very much aware of it because the talks were happening within the management about me opening at some stage.
"So… mentally, I was ready to take on that challenge, to see if I could do well up the order. I know I batted in the middle order before and things didn't turn out the way I wanted to but I knew this was going to be my last opportunity, you know, trying whatever the management is thinking. When you are playing a sport you always have to take those chances, those risks… Yeah, you can say that it was my last opportunity, if I hadn't succeeded, anything could have happened," said Rohit Sharma.
The thought of scoring an overseas hundred never crossed my mind: Rohit Sharma
When quizzed whether scoring a hundred in the overseas Test ever bothered him, Rohit Sharma said he was focused on his hard work and kept trusting the process. Eventually, after batting consistently well in the series, he got to the three-figure mark on Saturday with a clean strike for six.
"See, getting a hundred, whether it's overseas or your home, it's always a good feeling. That's what all batters try for, getting those big runs and making sure you always put your team in a good position. Speaking of overseas hundreds, it was never in my mind. What I was focusing on was following the process… At times, you have to be patient and I think I have done that.
"I was trusting whatever I was doing all this while, and I was happy doing those things. Sometimes things might not come easy, you have to put those hard yards in, and I was happy to do that," the opening batsman added.
Follow us on Telegram