'I think I definitely have done better than most, but it is not in my hands' – Vijay Shankar on India comeback
Shankar last played for India during the 2019 ODI World Cup.
Updated - May 14, 2021 4:25 pm
1.3K Views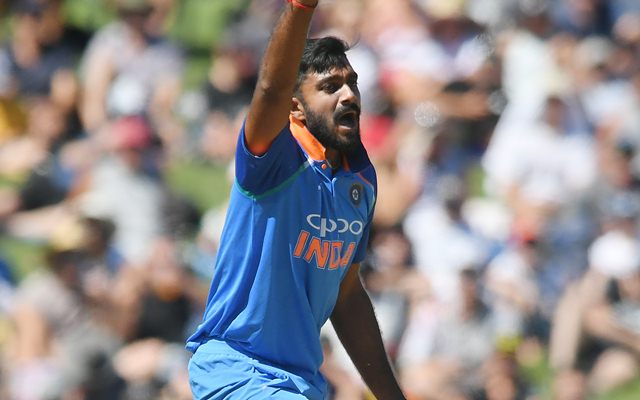 Follow us on Telegram
Things can go up and down in a fraction of seconds in the world of sports. An injured knee that required surgery saw Vijay Shankar lose his place in the Indian team to Hardik Pandya in the 2016 tour of Australia. He got up on his feet again and fought hard for the next two years, as he made his international debut in 2018 and it seemed that things will finally settle well for him.
However, it was not meant to be so soon. Shankar struggled in the Nidahas Trophy final and exited the side before making a comeback in 2019 when he made his ODI debut. Some notable performances with both bat and ball meant he impressed the selectors enough to give him a go-ahead for representing the nation at the biggest stage, and Shankar found himself in the UK, wearing the blue jersey in 2019 ODI World Cup.
But as it turned out, he could only play three games before injuring himself again. Ever since then, he is yet to feature in an international game. Over the last two years, his performance has declined even in the Indian Premier League. He missed a large part of the tournament in 2020 due to injury, in the most 2021 edition, he struggled in plenty.
On dealing with multiple injuries
"It was very difficult, definitely. But if you ask me, from the time I got dropped from the Indian team, it was very difficult. I had another injury and then I was not even closer to getting into the Indian side after that. But if you see the time, I was with the Indian team, I had a decent run. I was contributing in whatever batting order, whatever situation it was."
"Injuries have played a big part in my career. I don't see that as something which I can justify, saying I could have done better if I had been fit. I don't think that is fair to say. Injuries are bound to happen for sportsmen," Shankar told India Today in a recent chat.
'Getting into Indian side not in my hands'
"It's about pushing myself harder every day. These things are part of my journey. A lot of negativity creeps in when you're injured. 'Whether I will be able to come back? When will I play next?'. Every time, when I have a hamstring injury, there will be a small doubt in whatever you do – 'What if I get that back again?'.
"But I have always pushed myself harder for the best I can give. The rehab, whatever the small things I do, I will give my best because that's the only thing I have in my control," he added.
About his India comeback, he said, "I can't think of getting into the Indian side, those things are not in my hand. All I can do is prepare hard and try and do well in the matches that I play. I will try to push for that place again. Definitely, whoever has played for that country would love to wear that jersey again. There is no doubt about that. I just felt that when I had a decent run and I was not even considered after that, it was a little disappointing," he said. Notably, Shankar has clarified on not eyeing an India comeback earlier as well.
'Don't like comparison but have done better than most'
On being asked if Hardik Pandya's inability to bowl due to his injury is a chance for him to get inside the team, Shankar said, "I don't want to be in the team just because I am an all-rounder, someone who can bat and bowl. It should be more genuine; I should be in the team when people trust me for my abilities."
"I have said in the past about not liking comparisons. But if you really compare, I think I definitely have done better than most.
"But if you ask me personally, because of all the disappointments, you can't give up. You need to keep fighting and you need to keep pushing yourself. Being at my best is always important wherever I play, it doesn't matter if I get picked or don't get picked, I will still try my best, keep working hard. Whatever training I can do in the lockdown, I will keep doing that.
"I am pretty fortunate to have a good family which keeps backing me. I have good friends around. I have my personal coach, S Balaji who keeps pushing me.
"Sometimes, it happens, few players might get things a little late, but I will keep pushing for whatever things I deserve. More than this, there's nothing much I can say. I will have to keep pushing myself for the best I can give," concluded Shankar.
Follow us on Google News