I thought my career was over: Steve O'Keefe
Steve O'Keefe has played 8 Test matches for Australia.
Updated - Sep 1, 2017 1:21 pm
1.3K Views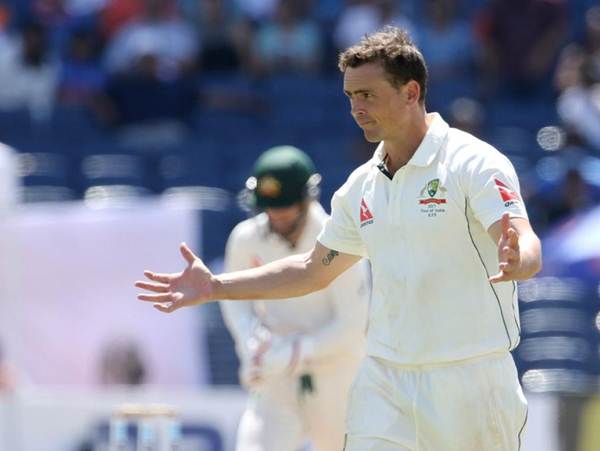 32-year old Australian left-arm spinner Steve O'Keefe entered the record books after he lifted Australia to an emphatic win against India in the 1st Test match in Pune, earlier this year. Steve completed the Test with figures of 12/70, the best by any visiting spinner in India and that helped his team stun the hosts. It seemed that he will be a force to reckon with the coming times, but then things took an ugly turn.
The spinner failed to replicate his performance in the next Test and was out of favour after the series. The Malaysia-born cricketer feared that his career is over after he was suspended by New South Wales for the domestic tournament and was also handed a fine of AUD 20,000. O'Keefe received the punishment for making an "inappropriate comment" in an inebriated state at New South Wales' end-of-season awards function. That wasn't all, in 2016, he was fined by Police for misbehaving outside a pub in Sydney after his Sri Lankan tour ended with disappointment due to injury.
Replacement for Josh Hazlewood
The spinner wasn't included in the Test squad for the Bangladesh series, but will now join his team as a replacement for injured Josh Hazlewood for the 2nd Test match. "Yeah, I did [think my career was over]. Originally I felt that when I stuffed up the first time, you're very lucky you get second chances and I got that, and I faltered again and made some mistakes, which I completely regret, I'm extremely sorry for. I'm just fortunate I've got supportive people around me who, as quick as they are to hand out punishment, will be the same people there to support so that as an individual I'm on the right track, not just as a cricketer," O'Keefe said on Friday.
Australia lost the 1st Test to Bangladesh by 20 runs. It was the home team's maiden win against Australia. The visitors might be tempted to play three spinners in the 2nd Test, starting from 4th September.