ICC World Cup 2019: Predicted squad of India for the tournament
ICC has announced that 20th April is the final date for all teams to submit their 15-man squad list.
Updated - Apr 3, 2019 2:25 pm
25.9K Views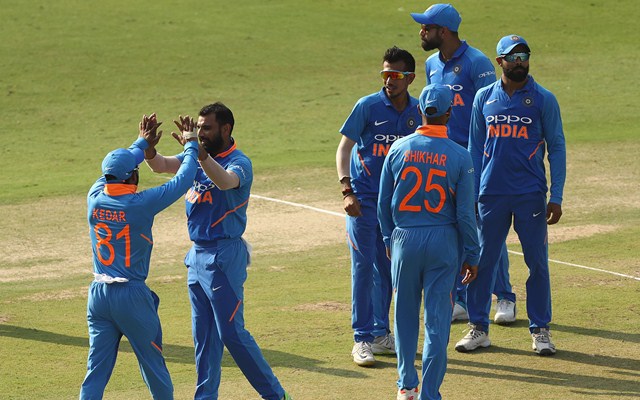 Follow us on Google News
The World Cup pandemonium was expected to overhaul IPL's excitement, but as it turns out, the greatest T20 league in the World has somehow managed to lift itself to a level where everyone can notice it with raised eyebrows and dropped jaws. Yet, there is no tournament in gentleman's game bigger than the 50-0ver World Cup.
ICC has announced that 23rd April is the final date for all teams to submit their 15-man squad list and some teams are expected to announce their squads much earlier. After so many months of research and experimentation on different permutations and combinations, this is the high testing time for all the selectors across the globe.
One good thing for the Indian side is that around 10-12 cricketers pick themselves in the team courtesy their good performances, a ratio unparalleled when compared to the rest. Yet, there are some tricky spots and it has been building a lot of curiosity on how the selectors will fill up those gaps.
Here's Crictracker's predicted 15-man squad for the World Cup.
1. Virat Kohli (C)
Skipper Virat Kohli is not having the best of IPL, but the world is aware of what he can do wearing the blue jersey. He has been in staggering form in ODIs of late and also recorded his 41st ODI century, taking him 8 tons closer to the great Sachin Tendulkar. Arguably the greatest challenge of his cricketing career awaits in England and people are expecting him to fare well.
2. Rohit Sharma (VC)
A crucial cog in the Indian contingent, Rohit Sharma has been as good as his captain in the ODIs over the last three years. The 31-year-old Mumbaikar scored a hundred against Bangladesh in the previous World Cup but had no other memorable outings. This time, with him being one of the senior most players, the expectations will be sky high.
3. Shikhar Dhawan
A man tailor-made for big tournaments, Shikhar Dhawan thus far has represented India in three 50-over ICC tournaments and is yet to let the management down. In the 2013 and 2017 Champions Trophy, including the 2015 World Cup, he was India's highest run-scorer. But this tournament will be a different challenge all-together and it will be interesting to see how the southpaw fares.
[interaction id="5ca35fc0a9b25a8a597741dd"]
4. Ambati Rayudu
So much speculation and debates over his selection, Ambati Rayudu remains to be India's unproven and unaccepted (By the fans) number 4. It clearly seems like Virat Kohli and his management have the trust on him, but he hasn't fired against big teams apart from a century against Windies in Vizag. The time has crossed by to experiment new options and hence, all Indian fans can hope for Rayudu to be in good touch.
5. Kedar Jadhav
One of the most underrated cricketers in the current setup, Kedar Jadhav continues to impress with every passing game. Maybe not the best of fielders, but he contributes profusely with the bat and ball. With the bat, he can build an innings patiently and can also tonk it right from the outset. With the white cherry in hand, he is always a tricky candidate and is known to pick big wickets and break crucial partnerships.
6. MS Dhoni (wk)
Although Rohit Sharma is the appointed vice-captain of the Indian side, MS Dhoni continues to be the biggest source of tips and suggestions for the Indian skipper. A cult legend of Indian cricket, he has been there and lifted the coveted trophy back in 2011 but this time, he has a much bigger responsibility to shoulder.
7. Vijay Shankar
Talk about grabbing opportunities with both hands, Vijay Shankar has epitomized in the last three months. He received a few chances here and there and the fans currently want him to be India's number 4. Although Kohli has said IPL performances are not being taken into consideration, but Shankar's impressive run with Sunrisers will definitely give him an edge.
8. Dinesh Karthik (wk)
It will be a tough choice for India to pick between the exuberance of Rishabh Pant and the experience of Dinesh Karthik, but the selectors might opt for the latter. Karthik brings in loads of calmness to his approach having represented India earlier in major ICC tournaments. A few good performances for KKR before the squads are announced will have a huge impact on the selectors.
9. Ravindra Jadeja
He came into the ODI picture out of the blue last year during the Asia Cup and seems so he has cemented his spot in the final 15. Ravindra Jadeja has matured a lot in the last two years as a cricketer and his batting too has improved a lot. He perhaps is the best all-rounder in the side and if he can get into the XI, India can play an extra batsman instead if they need.
[interaction id="5ca3792d4869a8898fd1f038″]
10. Hardik Pandya
Hardik Pandya is just about getting out of the stranglehold of controversies after a string of heady and muscular performances for the Mumbai Indians. His bowling still continues to be a worry. Yet the 25-year-old remains to be one of the star outlets in the team and a potential game-changer.
11. Yuzvendra Chahal
Leg spinners around the world have been doing a great job in limited overs cricket and one of them is Yuzvendra Chahal. His deadly wrist spinning duo with Kuldeep Yadav has left some opponents in tatters. Although they might not feature together frequently considering England's conditions, both will have a great impact on the side.
12. Kuldeep Yadav
One of the most important players in the current squad, Kuldeep Yadav is Kohli's go-to man for wickets in the middle order. With his chinaman trickery, Kuldeep has been a stalwart in the last couple of years in limited overs. He has all the ingredients to be a superstar and a good performance in the World Cup could well earn him that status.
13. Bhuvneshwar Kumar
Not in the best of forms, but Bhuvneshwar Kumar continues to be India's primetime new ball bowler. No way on earth will Virat Kohli not have him in the starting line up straight away as he trusts the UP bowler whole-heartedly. He has shown quality in the past but this is the greatest test his cricketing career has thrown at him and no doubt he would be itching to clear it with flying colours.
14. Mohammed Shami
Despite being at the helm of some off-field controversies, Mohammed Shami has been spectacular in recent times for India and is also impressive in the IPL for Kings XI Punjab. He seems to have found a proper way to bowl in the death overs, but it remains unclear whether he will be in the playing XI regularly or not. Maybe it will be a toss up between him and Bhuvi based on 'current form'.
15. Jasprit Bumrah
A player as important as the captain himself, Jasprit Bumrah is one of the best cricketers to watch out for this World Cup. With every passing game, he is escalating his standards further and is currently being hailed as the best bowler across all formats for the country. All of it would be irrelevant if he fails to impress in the World Cup, but considering his success rate, he certainly is going to be huge for the Indian side.
[interaction id="5ca46c832da8721568948c44″]
Follow us on Telegram