If my captain asks me to open, I will: Hanuma Vihari
The youngster has made himself available for anything the team needs of him.
Updated - Dec 1, 2018 11:45 am
3.8K Views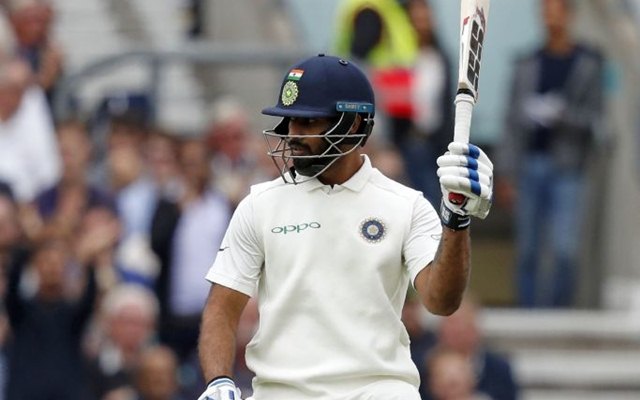 Hanuma Vihari has played just one Test for India, but the middle order batsman already offers a lot of assurance and at the crease appears like someone who knows what he is doing. After a good outing in England where he scored a fifty batting and no.6 and then picked 3 wickets with his off-spin in the fifth Test at Kennington Oval.
The youngster has made himself available for anything the team needs of him. He is ready to bat at any position based on what his captain wants him to do and the same applies to his bowling. Vihari said that skipper Virat Kohli and other senior cricketers in the team helped him learn a lot on the England tour which was his first exposure to international cricket.
"Australians have a great bowling attack. My captain, Virat Kohli and other seniors helped me in England. I am taking everything I learnt to Australia," Vihari told Timesofindia.com in an exclusive interview.
He wants to continue batting the way he did in England and even willing to open the batting if the need be. "I will play in Australia the way I played in England. I am ready to bat at any position. If my captain asks me to open, I will. If he asks me to bat in the middle or lower order, I am ready for that as well," Vihari said.
He is aware that a fifty is good only at times but it is the hundreds that matter. In his maiden outing against England, he scored a fifty but got out on 56 from 127 balls. "I scored a fifty in England and if given a chance I would like to convert it into a century in Australia," he added.
The 25-year-old also understands this is a huge opportunity and thanked the captain for showing faith in him. "It is going to be a big series for me. I have worked hard for this. Want to thank my captain for showing faith in me," he said.
"Getting a fifty overseas and that too on my maiden international tour was a big thing for me. I will try to continue this kind of performance in Australia," the Andhra cricketer added.
Not much of a bowler
In his 66-match first-class career he has picked 22 wickets with the best of 3/17 and in the only Test he has played bowled just over 10 overs and picked 3 wickets in the second innings. He admitted that bowling is not his primary trade but again if there's a need for it in the team he doesn't mind contributing with that either.
"Bowling is not my primary strength. But I can bowl when my team demands it. I have certain variations that I use when bowling. When my captain asked me to bowl in England, I did and thankfully took three wickets," Vihari added.
Laxman's guidance
He also has been getting valuable tips from one of the Indians greats who come from the same part of the world VVS Laxman. The right-hand batter said that he had a word with Laxman after the England tour and he had asked him to start training for Australia now. The veteran had also made himself available to the Ranji Trophy team and helped them with their batting techniques among other things.
"After the England series, Laxman sir called me and asked me to prepare for the Australia series. He asked me to prepare according to the conditions,"
"When I was playing the last Ranji Trophy season, VVS sir came to watch a couple of matches. He spoke to everyone. He is such a great human being and one of the greats in the cricketing world. It was nice to have him around. I spoke to him and discussed my batting techniques," Vihari told TOI.