'If you can't laugh at yourself, you may be missing colossal joke of century' - Anushka Sharma showers love on Virat Kohli's candid interview
Kohli talked of his recent struggles in the latest interview for RCB Insider.
Get every cricket updates! Follow us on :
Virat Kohli's better half Anushka Sharma recently took to her Instagram to share the latest interview of the batter featuring in the RCB Insider and saw the bright side of it. Kohli's lean patch across formats has continued for a long time now and several players along with cricket experts have talked about the same. He hasn't hit a century in more than two years now and concerning the current IPL, he is nowhere among the runs with just 216 runs in 12 games.
In the same interview, the prolific batter turned out to be candid and talked about how he feels helpless in some situations after not being able to perform up to the mark. It is to be noted that Kohli has bagged three golden ducks in this season and these kinds of figures are way below the standard he had maintained all the while. In the same light, Anushka added that one might be missing the colossal joke of the century if they can't laugh at their grey areas.
"If you cannot laugh at yourself, you may be missing the colossal joke of the century," Anushka Sharma wrote on her IG story while sharing Kohli's latest interview.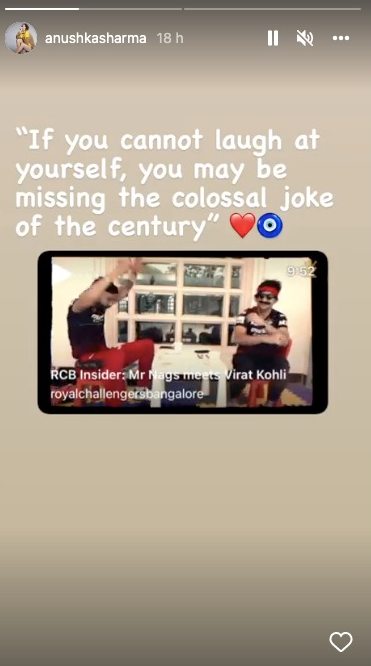 Talking of the same interview, Kohli revealed his real emotions about bagging golden ducks and said how it has never happened in his career. The 33-year-old also added that critics don't have any idea about his life, so, he tries to cut the maximum noise by not paying any attention to it.
I think. I have seen everything now: Virat Kohli
"First-ball ducks. After the second one (duck), I actually realised what it feels like to be like you (Mr. Nags' character), absolutely helpless. It hasn't happened to me ever in my career, I think. I have seen everything now. It's been so long, I have seen everything in this game," said Virat Kohli while speaking to Danish Sait for RCB Insider.
"They can't be in my shoes. They can't feel what I feel. They can't live my life. They can't live those moments. How do you cut out the noise? You either mute the TV or don't pay attention to what people are saying. I do both those things," he added.
Interview of the year! Catch Virat Kohli in a relaxed, honest and fun avatar, even as Mr. Nags tries to annoy him just like he's done over the years. 😎🤙

Tell us what the best moment from this interview was for you, in the comments section. 👨‍💻#PlayBold #IPL2022 #RCB #ನಮ್ಮRCB pic.twitter.com/vV6MyRDyRt

— Royal Challengers Bangalore (@RCBTweets) May 11, 2022