'I'm so sorry, please don't ban me!' – Virat Kohli recalls the 'Fingergate' incident
Kohli was spotted on cameras showing his middle finger to a group of spectators during the Australia tour in 2012.
Updated - Sep 5, 2018 11:18 am
17.2K Views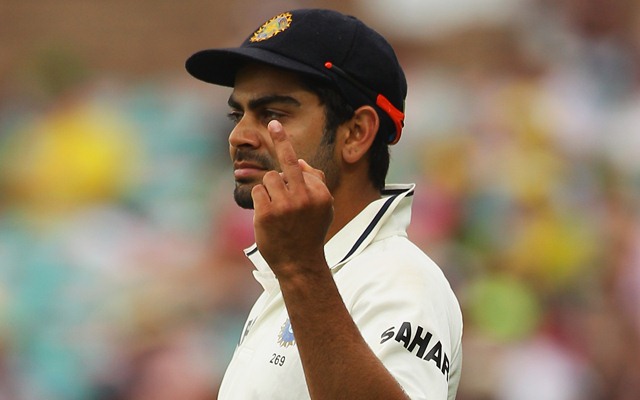 Follow us on Google News
Virat Kohli is arguably the best modern-day batsman across all three formats. The Indian skipper has had his share of controversies in his career. The biggest one will surely be the 'Fingergate', that happened in Australia series in 2012. Kohli was spotted on cameras showing his middle finger to a group of spectators. He was standing at the boundary line at that moment and he was even crashed with the cameraman when Michael Clarke smashed the ball towards the boundary line.
Virat Kohli later after that game clarified on Twitter that the spectators were hurling bad words about his mother and sister. The batsman got an immense support from the then IPL teammate Kevin Pietersen and the Bollywood legend Amitabh Bachchan. Many supported the Indian stating not to take things to heart and to ignore criticism. However, Kohli recently gave an interview to Wisden Cricket Monthly and shared a few interesting moments from that incident.
"The one thing I remember most is when I'd had enough of the Australian crowd at Sydney [in 2012] and I just decided to flick a [middle] finger at them," he recalled "'I'm so cool'. The match referee [Ranjan Madugalle] called me to his room the next day and I'm like, 'What's wrong?' He said, 'What happened at the boundary yesterday?' I said, 'Nothing, it was a bit of banter'. Then he threw the newspaper in front of me and there was this big image of me flicking on the front page and I said, 'I'm so sorry, please don't ban me!' I got away with that one. He was a nice guy, he understood I was young and these things happen," Kohli recalled the incident in his interview to Wisden Cricket Monthly.
I am proud that I didn't change
The Indian skipper is mostly seen with aggressive celebrations and send-offs on the field. He likes to give it back to the opponent no matter what. Kohli went on to add that he feels proud for not changing his aggressive attitude on the field. He stated that he never wants to change himself for anyone in the world and he always feels happy for doing that.
"I really laugh at a lot of the things I did when I was younger but I'm proud that I did not change my ways because I was always going to be who I am and not change for the world or for anyone else. I was pretty happy with who I was."
[interaction id="5b8e45f6b1d18d45910e65b8″]
Follow us on Telegram