Imad Wasim rubbishes rivalry between him and Babar Azam in Karachi Kings
Imad also praised former Pakistan captain and left-arm seamer Wasim Akram for making a big impact on the franchise.
Updated - Feb 20, 2020 7:33 pm
395 Views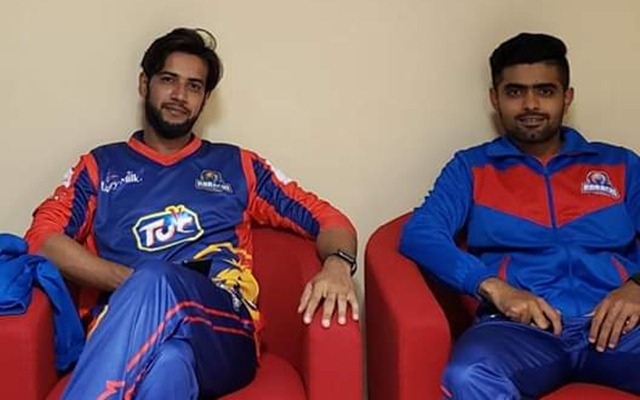 The 2020 edition of Pakistan Super League (PSL) is a day away and fans from across the world are looking forward to the tournament which has earned accolades over the years. This year, the entire tournament will be played in Pakistan and not partially in the UAE. Defending champions Quetta Gladiators will take on two-time champions Islamabad United in the first match in Karachi on Thursday.
Meanwhile, a special attention is on Karachi Kings, who will be led by all-rounder Imad Wasim. In an exclusive interview with Cricket Pakistan on Wednesday, Imad said there was no problem whatsoever between him and Babar Azam, Pakistan's ace batsman who is also the captain of the national T20 side.
Stressing on their camaraderie, the 31-year-old UK-born left-arm cricketer said he shares a good relationship with Babar and each offers the other advice.
"There is nothing between me and Babar. He is Pakistan's captain and I am Karachi's captain. When I play for Pakistan, we give each other advice. When he will play for Karachi he will give me advice. I think you need to have good relations with everyone.
We have never had the need to feel that he is the captain or I am. We all strive to win matches," Imad, who will lead the Kings in their first match of PSL 5 against last year's finalists Peshawar Zalmi at home on Saturday, said as quoted by Cricket Pakistan.
'Kings have to play well even if they have some good players': Imad Wasim
As a word of caution, Imad said even with the presence of the world No.1 batsman in T20Is in Babar and pacer Mohammad Amir, the Kings will have to perform on the day if they have aim for good overall results. The Kings are yet to make the finals of the PSL. He though said that the Kings' preparations have been good.
"Our preparations are going great. We are practicing and playing games as well. We played a match today as well. So we are happy that the players have started performing," said Imad.
"Obviously Babar Azam is number-one in the world rankings while Mohammad Amir is a great bowler but it depends on the players performances on the day. Whoever performs on the day is the most vital. T20 is a format where you have to play aggressively and you have no other option," he added.
Imad also praised former Pakistan captain and left-arm seamer Wasim Akram for making a big impact on the franchise. "He [Wasim Akram] has had a big impact on the team. The way he has served the game and the way he understands it, I think there aren't any who get it better than him. We learn from him and we constantly seek their advice," he said about the legendary swing bowler.
Watch: Irfan Pathan's interview post his retirement