India Team members ask skipper Virat Kohli to eat 'roti, rice and sweets' on birthday
The skipper turned 30, and so far has had a stellar career.
Updated - Nov 6, 2018 11:28 am
497 Views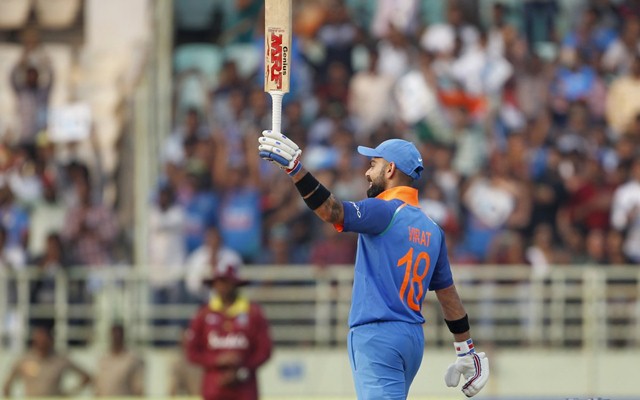 The cricketing world recently went gaga over their new superstar who is none other than Indian skipper Virat Kohli. And November 5 being his birthday – the captain celebrated his 30th on Monday – meant the entire fraternity sent in thoughtful wishes for Virat. The once chubby-cheeked Virat Kohli, who was called 'Cheeku' for that very reason, is now ruling the sport with his unparalleled performances with the bat.
But while he might be the most passionate and aggressive cricketer on the field, off it he engages in myriad banters with his Team India mates. The dressing room, which is currently missing him as Kohli has been rested for the T20I series against the Windies, hence took the opportunity to poke all the fun they could on his birthday.
From former India captain MS Dhoni to Team India head coach Ravi Shastri, everyone took time off to record a short video with their wishes for King Kohli. However, amongst all of these, there was one hysterical wish which would crack up anyone who hears it, and it came from Sir Ravindra Jadeja.
Kohli needs to eat sweets and improve in FIFA!
Jaddu as he is better known requested his captain to alter his diet for once. Kohli's special attention to his diet and fitness is well-documented, and the fact that he can bat like a machine on the field is mainly because of it and he pushes himself constantly to increase his fitness levels. However, Jadeja's wish would certainly make for the best wish of the day as he pulled his skipper's leg in good humour. The all-rounder smiling said, "Score loads of runs and I think you start eating roti, rice and lot of sweets," Jadeja said.
Even MSD, who shares a great camaraderie with Kohli both on the field and in the dressing room, revealed a few of Kohli's secrets in a specially curated video produced by the BCCI. What was interesting to know was that VK is a die-hard fan of PUBG, a multiplayer game that has taken the gaming world by storm.
"Wish you a very happy birthday. I know you are a big PUBG fan and I just found this old picture of yours. So, why don't you come and teach Manish Pandey how to play a first-person shooting game," said MSD. Meanwhile, youngster Rishabh Pant also came up with an interesting piece of advice for his skipper, especially as far Kohli's performance in FIFA is concerned. "Your party is due and when we meet again, we have to play FIFA and you are losing again. I am 1-0 up. So, you need to improve your FIFA game also," said Pant jokingly.
Watch some of the wishes here:
Wishes galore for the Indian captain from the team as he celebrates his 30th Birthday. Here's to many more match-winning moments and 🏆🏆 in the cabinet.

Full video here – https://t.co/MCnjtfoIuD pic.twitter.com/Yr83r8LPyS

— BCCI (@BCCI) November 5, 2018