India tour of Ireland and England, T20I series – Approaching milestones
All the approaching milestones for Indian players ahead of the T20I leg on the Europe tour.
Updated - Jun 23, 2018 6:36 pm
934 Views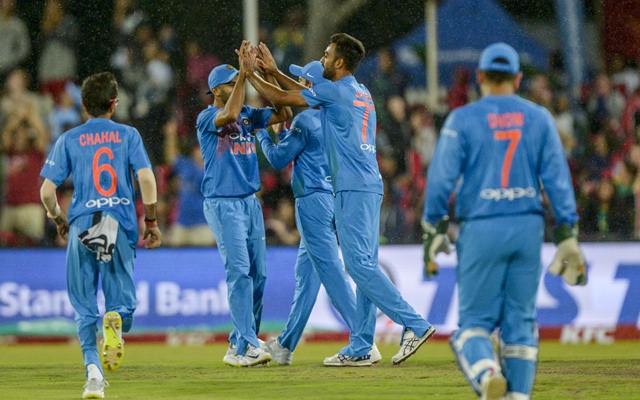 Follow us on Telegram
India will face Ireland in a two-match T20I series ahead of the England tour that starts with a 3-match T20I series in July. India, the inaugural WT20 champions, have failed to replicate their performances at the big stage but remain among the most consistently performing sides in bilateral series. The top Asian side has won their last four T20I series including the Nidahas Tri-Nation tournament.
The Indian team in the T20 format has of late been filled up with consistent performers in the IPL and youngsters who have done well in this format. However, in this series against the European sides, India has a majority of the experienced campaigners. The Indian T20I squad is similar to their ODI squad with proven match winners who have been in form in recent times.
All the approaching milestones for Indian players ahead of the T20I leg on the Europe tour:
50 – MS Dhoni (46) and Virat Kohli (41) need four sixes and nine sixes respectively to complete 50 sixes in T20I cricket. Only Rohit Sharma (78), Yuvraj Singh (74) and Suresh Raina (54) have hit 50 and more sixes in the T20I format for India.
---
150 – Jasprit Bumrah (145 wickets) needs five more wickets to complete 150 wickets in the Twenty20 format while Yuzvendra Chahal (143 wickets) needs seven more runs for the same milestone. Siddarth Kaul (91 wickets) is also nine wickets away from completing 100 wickets in Twenty20 cricket.
---
295 – Number of sixes Raina hit in his Twenty20 career so far. He needs five more to become the 2nd Indian after Rohit Sharma to hit 300 sixes in T20 cricket. Only seven players in the world have hit 300 and more sixes in T20 games.
---
1983 – Virat Kohli has scored 1983 runs in T20I cricket thus far. He needs 17 more runs to become the first Indian to complete 2000 runs in Men's T20I cricket and 2nd Indian after Mithali Raj in overall T20I cricket.
---
5982 – Runs Shikhar Dhawan has scored in the Twenty20 format thus far. He needs 18 more runs to become the 6th Indian player to complete 6000 runs in T20 cricket.
---
8926 – KL Rahul needs 74 more runs to complete 8000 across all formats in his professional career. Manish Pandey (13863 runs) also need 137 runs to complete 14000 runs in professional cricket.
---
9925 – Runs Rohit Sharma scored across three formats in International cricket. He needs 75 more runs to become the 13th player to score 10000 runs in International cricket for India.
Follow us on Google News