India v Australia, 2017: 1st ODI – Statistical Highlights
Here we look at all the stats and records created during the game.
Updated - Sep 18, 2017 12:08 am
3.5K Views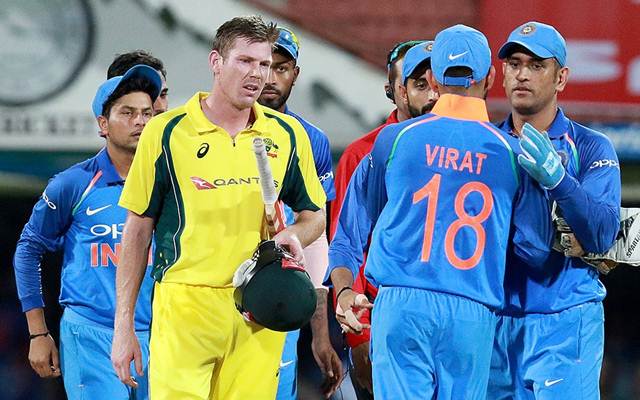 India secured a winning start to the 5-match ODI series against Australia registering a 26-run win in the rain-affected 1st ODI at Chennai. Despite the failure of the top five batsmen, India posted a defendable total of 281/7 in their 50 overs thanks to brilliant 83 from Hardik Pandya and MS Dhoni's 79. The Australian innings took off after a near 3-hour delay with a revised target of 164 in 21 overs. The aggressive Indian bowling restricted the visitors to just 137/9.
Here we look at all the stats and records created during the game.
1 – Run aggregated by captains in this ODI is the lowest in an India-Australia ODI game. Virat Kohli got out for a duck while Steven Smith scored one. The previous lowest by captains in India-Australia ODI was three runs in 1981 Sydney ODI and 1998 Kanpur ODI.
4 – Virat Kohli and Manish Pandey getting dismissed for ducks is only the 4th instance of India's No.3 and No.4 and getting out for ducks in the same ODI. Both the No.3 and No.4 batsmen bagged ducks in the ODIs against Australia in 2007 at Hyderabad, against Sri Lanka in 2010 at Dambulla and against England in 2013 at Dharamsala.
10 – This is India's 10th consecutive win under Virat Kohli's captaincy which is the longest winning streak in International cricket for India under any captain. MS Dhoni had registered nine consecutive International wins in 2013.
11 – Runs at which India lost their 3rd wicket in this game; it is the 2nd lowest they have managed before losing their 3rd wicket in a home ODI. India lost their 3rd wicket for five runs against South Africa in 2005 at Hyderabad.
100 – MS Dhoni's fifty in this game is his 100th in International cricket. He is the 4th Indian and 14th player overall to have 100 and more scores between 50 and 99.
194 – The 198 runs aggregated by India's No.6 and lower batsmen in this game are the 2nd most by them in an ODI. India's no.6 and lower batsmen scored 239 against Zimbabwe in 1983 World Cup.
281/7 – India's total of 281 is the 2nd highest for any team after losing their 3rd wicket for 11 or fewer runs. Australia scored a mammoth 368/5 from 10/3 against Sri Lanka in 2006. India posted 280/7 against Zimbabwe in 2004 after being 4/3 at one stage.
281 – India's 281 is the 2nd lowest ODI total at home against Australia which came in the winning cause. India successfully defended 193 in a 50-overs game over Australia in 1986 at Ahmedabad.
2011 – Last Indian player before Hardik Pandya to score 83 and more runs and take two and more wickets in an ODI was Yuvraj Singh also at Chennai against West Indies in 2011.