India v Sri Lanka, 3rd Test – Who Said What
The third Test between India and Sri Lanka ended in a well-fought draw, leading India to a 1-0 series victory.
Updated - Dec 6, 2017 5:30 pm
1.5K Views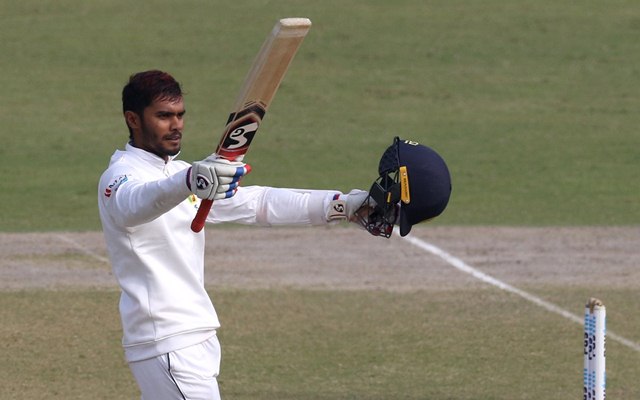 The third Test between India and Sri Lanka ended in a well-fought draw, leading India to a 1-0 series victory. Although India would rue the catches they missed at the slip positions, they put up good efforts with both the bat and the ball. The Lankans, in particular, would draw inspiration from the resolute batting performances that they put in, making India work extremely hard to search for the chink in their armour.
The Indian first innings saw stellar batting performances from Murali Vijay (155) and skipper, Virat Kohli, who piled on his sixth double-century of his Test career. In reply, Sri Lanka batted with admirable intent as Dinesh Chandimal (164) and Angelo Mathews (111) put a brake to the Indian juggernaut. In spite of several stoppages in play due to the deplorable atmospheric conditions owing to the infamous Delhi smog, good cricketing action was dished out to the fans all throughout. The Indian second innings once again exemplified the strength of the Indian batting line-up and the Lankans were set a mammoth target of 410 runs.
At the end of Day 4, Kohli's boys would've fancied their chances at winning the Test match, having scalped 3 wickets in the the last session. However, it was not to be! All-rounder, Dhananjaya de Silva played exquisitely to score a ton and kept the Lankans alive in the game. Able assistance from Roshen Silva and Niroshan Dickwella down the order resulted in the match closing at a respectable draw.
Roshen Silva
Lankan middle-order batsman, Roshen Silva displayed immense grit and determination as he held his nerves as well as his end on the crease. Not only did he stay put on the crease and help his team reach a draw, but also put up an impressive performance with the bat as he scored 74 valuable runs.
I was under pressure, I just wanted to impress the selectors. They are quality bowlers, so I thought if we play some shots against Ashwin and Jadeja, it will put them on the back foot. It wasn't tricky (the wicket), our batting coach said 'if you can score runs here, the whole world will know you can score runs'. I wanted to impress the coaching staff and prove that I can do well at the International level. I guess I grabbed the opportunity.
Niroshan Dickwella
Sri Lankan keeper, Niroshan Dickwella came in at a point where the Indians had begun to smell blood after dismissing the set Dinesh Chandimal. Had he not fortified his team's innings with a solid, unbeaten knock of 44 runs in the latter stage of the game, Sri Lanka would've found the draw to be a distant dream.
Ashwin and Jadeja were bowling really well and it was tough to face them. But I was playing my normal game. We were planning to chase the target down if we got some good partnerships. But unfortunately, Dhananjaya de Silva got injured, we had some fine partnerships, if only Dhananjaya had stayed longer, we could have gone for the target. It wasn't a tough pitch to bat, but there was some help for the seamers and there was some rough as well, that was the reason we played a lot of sweeps and we used our feet against the spinners.
Sri Lanka Captain – Dinesh Chandimal
The Sri Lankan skipper ended the series with 395 runs to his name in the 3 Test matches and set an example of in leading from the front. His highest ever score against India (164) in the Lankan first innings was largely responsible for the stiff resistance that they were able to put up against the Virat Kohli-led side. He appreciated his team's effort and was also gracious enough to wish India luck for the upcoming South Africa tour.
It was a really good series. Apart from the second game, we played some good cricket. Credit to the players and management. Most important thing was to execute the plans. Credit to the players. We got Rangana and Angelo, the most experienced players in our team. When Angelo performs well, the youngsters will watch him how to go about it. Credit to Dhananjaya and Roshen Silva in tough conditions against great bowlers.

I've done a lot of hard work. I've made changes in my technique, and have worked with the batting coach. It was a tough time. In Sri Lanka, we aren't used to this (talking about air quality), so we struggled for the first two days. Today is a fantastic day. Feels like Sri Lanka. Thanks to Indian fans for supporting us. Thanks to Virat and team, they're really good. Wish them well for South Africa.
India Captain – Virat Kohli (Player of the match & Player of the Series)
The Indian skipper put up one spectacle after the other in the entire Test series as he accrued 610 runs over the 3 Tests, including 2 double-tons. Kohli spoke about his own mindset and admitted that they still need to put in some work in the slip-catching and fielding areas. The star batsman also elaborated on the decision to take a break from the game in the upcoming limited-over games against Sri Lanka.
It was a good series for me personally. I was hitting the ball pretty well. It was a revelation for me as well that I can play the same way in Tests as I do in ODIs, pushing the game forward. That was something I always hesitated to do. Even in Test cricket, there's nothing called as a set pattern. When I wasn't captain, it was very difficult for me to think of the situation all the time. When I was finding my feet, it was always about making sure that I get runs. When I used to reach a milestone, I used to get relaxed. Rohit, we've always believed that he can change the game in the lower middle order. He's grabbed his chances really well.

Everyone's hitting the ball really well. There are few areas for us to work at, but the batting and bowling has been on point. Feels like a disappointment. They played really well. The pitch got really tired by the end. In hindsight, if we had grabbed our chances, we could have pushed harder. Slip catching and fielding, still need to work on it. Firstly, from his (Rahane) initial days, he's always fielded at gully. Gully is a very difficult position to field at. So we trust him there, with his reflexes. Last time I took a break, it was very difficult to handle. But my body is wanting it right now. It has taken a toll in the last couple of years, and right now is the perfect time to take a break before South Africa.