India vs Australia, 2020: 2nd ODI – India's Predicted Playing XI
With Rishabh Pant ruled out of the second ODI due to concussion, KL Rahul is expected to keep the wickets.
Get every cricket updates! Follow us on
So, after receiving a shellacking of the highest order by the Australians, redemption will be on the mind of Virat Kohli-led India when they take on the mighty Kangaroos in what is effectively a do-or-die encounter in Rajkot on Friday. The hosts have a lot of work to do if they are to make a comeback in the series and break their four-match losing streak against the Aussies on home soil.
And, that starts with picking the best possible playing XI. With Rishabh Pant ruled out of the second ODI due to concussion, KL Rahul is expected to keep the wickets. But, it will be interesting to see where he bats in the playing XI. Will Virat continue batting at No.4 or will he finally get back to his preferred slot? Also, will Kedar Jadhav for once make a comeback?
Amid the muddle, here's India's predicted XI for the second ODI:
Openers:
Rohit Sharma & Shikhar Dhawan
Now, there was a lot of debate as to who should open with Rohit Sharma in the first ODI. But, now with Shikhar Dhawan having scored 74 in the last game, that debate is pretty much sealed as of now. However, the southpaw will be hoping that if he goes past another half-century in Rajkot, he converts that into a three-figure, something he wasn't able to do in Mumbai.
Rohit Sharma had a cracking start to the first game when he crunched Mitchell Starc for two sumptuous cover-drives in the very first over. But the Hitman wasn't able to cash-in and fell to a cross-seamed delivery off Starc for 15-ball 10, something both he and India will hope to rectify in the do-or-die encounter at Rajkot.
Middle-Order:
Virat Kohli [c], KL Rahul [WK], Shreyas Iyer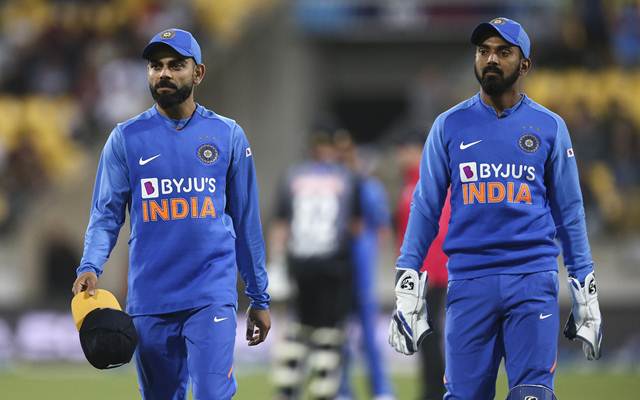 "It hasn't gone our way when I've batted at No.4, so we have to see how it goes" were Virat Kohli's words after his another botched attempt at slotting KL Rahul in the top-3 at the expense of pushing himself to No.4. Kohli came into bat in the 28th over of the Indian innings but he lasted for just 14 balls before Zampa, who has so far bowled a total of 97 balls to Kohli in ODIs, got him out for the 4th time. With the series on the line, one can expect sanity to prevail in Rajkot with the best batsman of the team walking out at his preferred slot.
With Kohli expected to bat at No.3 and Dhawan set to open, it means that KL Rahul- who will also be keeping the wickets- will bat at a position where he started the 2019 World Cup- The No.4 spot. Rahul looked well on course for a big inning [47] in the last game but just like Dhawan, he gave away his wicket against the run-of-play, one that led to an eventual Indian collapse.
And, lest we forget, Shreyas Iyer, who has done so well at the No.4 spot since the 2019 World Cup, will again have to contend with batting at No.5. Iyer's struggles against top-quality pace were once again testified in the last game when Mitchell Starc set him up beautifully to finally induce an outside edge, something he would hope to counter in Rajkot.
All-rounders:
Kedar Jadhav & Ravindra Jadeja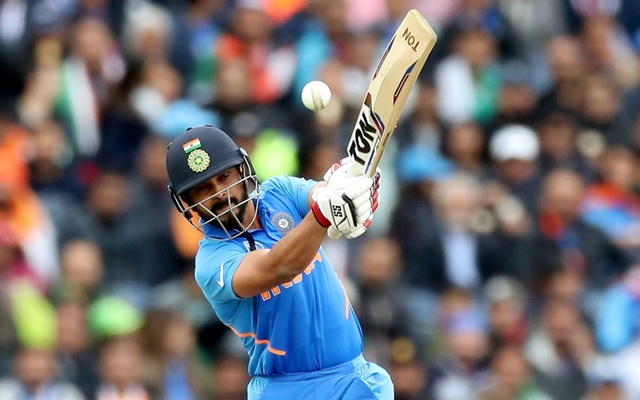 India went in with five bowling options in the last match and while another bowling option may not have made any difference, Kohli and the team management will be looking to slot in an extra bowling option.
With Rishabh Pant out of the second ODI, a spot in the playing 11 has opened up for both Kedar Jadhav and Manish Pandey. However, with the Rajkot pitch expected to be slow, Indians might be tempted to slot in another spin bowling option, and this is where Jadhav could pip Pandey. An interesting thing to note here is that Jadhav for used for just one over in the recently concluded ODI series against the West Indies.
With Hardik Pandya injured and the batting strength of the lower-order non-existent, India has had to play Ravindra Jadeja as the spin-bowling all-rounder in place of one of their wrist-spinners. While Jadeja's batting has been pretty useful at No.7, his bowling on flat tracks has left a lot to be desired. He has taken just 12 wickets in his last 16 ODIs at an average of 57 and an economy rate of 5.02.
While he has been economical, the all-rounder hasn't been able to provide breakthroughs in the middle-orders, something that was a key part of India's success in white-ball cricket when Kul-Cha used to play in tandem.
Bowlers:
Kuldeep Yadav, Navdeep Saini, Mohammed Shami & Jasprit Bumrah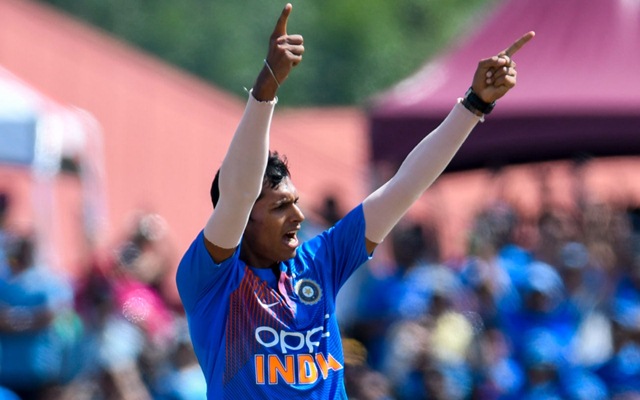 To be fair, Kuldeep Yadav bowled pretty well in Mumbai. He was, by far, India's best bowler on show. The chinaman consistently troubled Aaron Finch and even David Warner and had some of the rub of his green had gone his way, Kuldeep would have walked away with far more respectable figures than he eventually did. 
The biggest disappointment from the ten-wicket defeat in Mumbai was the way the Indian fast bowlers performed. On a track where the Aussies made great use of cross-seam deliveries, the Indian seamers went for the fullish length in order to garner the non-existent swing and were duly dealt with disdain by Warner and Finch.
And, every time they compensated for their length, they ended up overcompensating it, and as a result, dished out juicy short deliveries, only for Finch and Warner to punch them off the backfoot.
India learned a harsh lesson in Mumbai that you always pick a player based on his primary skill which in Shardul Thakur's case is bowling. The right-hander was picked for his all-round abilities at the expense of Navdeep Saini, and India paid a heavy price for it as the Mumbai bowler was largely ineffective with the ball.
Navdeep Saini brings with him an extra element of pace and he can be the ideal foil to Bumrah and Shami as the third seamer, something the team-management should go within this do-or-die encounter