India vs Australia: Visitors seek domestic wrist spinner Pardeep Sahu's help yet again
The cricketer has also played for Rajasthan Royals and Kings XI Punjab in the Indian Premier League.
Updated - Feb 20, 2019 10:33 am
10.4K Views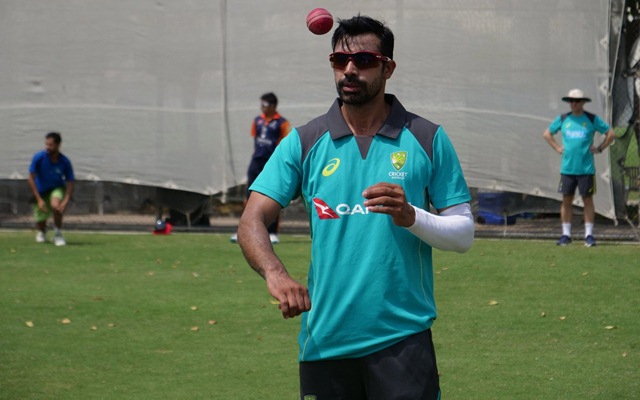 Whenever they travel to the subcontinent for any format of cricket, Australia remain occupied with the 'how to tackle spin' question. This time, too, as the Kangaroos arrive in India for a twin limited-over series, they have taken an initiative to guide themselves on playing the slow bowlers.
Australia coach Justin Langer and his support staff members have looked up to Pardeep Sahu, a domestic wrist-spinner from Mumbai, to help the visitors prepare well for the upcoming T20I and ODI series starting February 24. The first T20I will be played in Vishakhapatnam while the first ODI will be played in Hyderabad on March 2.
The 33-year-old Sahu from Haryana, who plays on Mumbai's local circuit, has some international fame owing to his link with Australia. He was proved to be of good help for Australia during their series against Pakistan last year and Aaron Finch's men have sought his assistance yet again before facing the likes of wrist spinners Kuldeep Yadav and Yuzvendra Chahal.
"They [Australian batsmen] want to practice playing quality wrist spin. This time they want me to travel with them to all venues. This will be a first time that I will get a chance to travel with an international team," Sahu, who recently played for Kathmandu Kings XI in Nepal's domestic T20 tournament Everest Premier League, was quoted as saying by mid-day.com. The cricketer has also played for Rajasthan Royals and Kings XI Punjab in the Indian Premier League.
"There are some special drills developed for playing wrist spinners and I will look to provide the Australians with quality practice," Sahu added.
Sahu taking the job professionally; wants India to win
The bowler, who has 13 wickets in first-class cricket, said he wanted to see India win the series and added that he will do his consultation job as a professional. He also said that Cricket Australia had written to the Board of Control for Cricket in India for his appointment and it was okayed by the latter.
Last November, Australia had roped in Sahu and KK Jiyas, a chinaman bowler from Kerala, ahead of their series against Pakistan in the UAE.