India vs Bangladesh, 2019: 2nd T20I – Rohit's milestone game, India's record win, Rohit's record knock and more stats
All the statistical highlights from India's grand win over Bangladesh during the Rajkot T20I.
Updated - Nov 8, 2019 12:59 pm
4.2K Views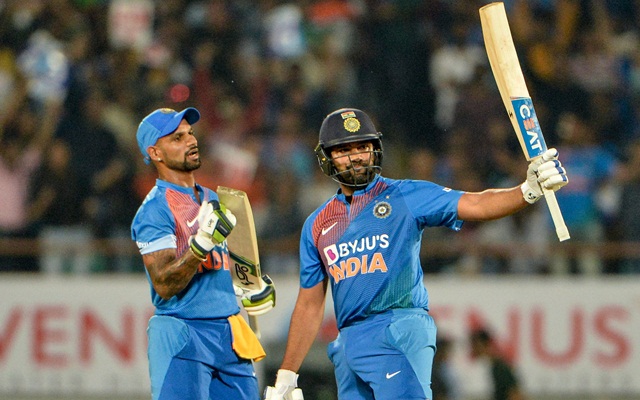 India ensured they levelled the T20I series against Bangladesh that too in some style as the chased down a 154-run target with 26 balls to spare. After electing to bowl first, India spilled a couple of chances before breaking the opening stand. Once India got the first wicket, they tried to keep it tight with the spinners while taking wickets at the same time.
They were successful in that process as Bangladesh finished with only 153/6 despite four batsmen scoring more than 25 runs. Rohit Sharma, in his 100th T20I appearance, didn't let the visitors get away as the duo added 119 runs in 11 overs along with Shikhar Dhawan.
All the statistical highlights from India's grand win over Bangladesh during the Rajkot T20I:
India's fastest 150+ chase:
15.4 – India chased down the 154-run target in 15.4 overs; the 4th fastest chase of 150+ target in T20I history. This is also the first time that India chased down a 150+ target in T20Is inside 100 balls. They needed 17.3 overs for chasing down 153 against Sri Lanka in the restricted 19 overs during last year's Nidahas Trophy.
---
India goes past Australia:
41 – India now has won 41 matches while chasing in the T20I format; the most by any team surpassing Australia's 40 chases. India held this record before Australia recorded three successful chases in the last 10 days or so.
---
Rohit's record knock:
85 – Rohit Sharma's 85-run knock in this game is the highest individual score by an Indian captain in a T20I chase. Rohit now holds the record for top four highest T20I individual scores for an Indian skipper.
List of records Rohit Sharma created with his 85-run knock against Bangladesh in Rajkot
---
Rohit levels with Yuvraj:
3 – Number of fifties in T20I cricket by Rohit Sharma which came in 25 or fewer balls; the joint-most such knocks for India in this format. Yuvraj Singh also has three T20I fifties in 25 or fewer deliveries. Interestingly, Yuvraj also scored his 3rd T20I fifty coming in 25 or lesser balls during a T20I hosted by Rajkot.
---
Record partnership between Rohit and Shikhar:
4 – The century partnership between Rohit Sharma and Shikhar Dhawan in this game is their 4th 100-run stand in the T20I format. They become the first pair in the history of T20I cricket four-century partnerships. On the other hand, Rohit became the first player in T20Is to feature in ten different 100-run stands.
---
Rohit equals McCullum:
398 – Number of sixes Rohit has struck in his International career; the 3rd most by any player alongside Brendon McCullum. Only Chris Gayle (534) and Shahid Afridi (476) are ahead of Rohit and McCullum in this list.
---
Chahal goes past Bumrah:
26 – Yuzvendra Chahal's 26 T20I wickets in India are the most by an Indian at home. Chahal surpassed Jasprit Bumrah's 24 wickets with the two wickets he picked on Thursday. Among the players with most T20I wickets on Indian soil, only Rashid Khan is ahead of the Indians with 39 wickets.
---
A milestone game for Rohit:
100 – Rohit Sharma became only the 2nd player to feature in 100 T20I matches in Men's cricket. Shoaib Malik leads the list with 111 appearances.
---
320 – Rohit now has appeared in 320 matches in the Twenty20 format; the most by an Indian surpassing Suresh Raina's 319 T20 appearances. Rohit (8406) also surpassed Raina's tally of 8392 in the T20 format and stands only behind Virat Kohli's 8556 runs.
---
Another year of sixes for Rohit:
66 – Rohit Sharma has struck 66 sixes across all three International formats in 2019; the 2nd most International sixes by any player in a calendar year. Rohit holds the record with 74 maximums in 2018 and also has the 3rd most number of International sixes having hit 65 of them in 2017.
---
Rohit's strikes big in the 2nd game of a series again:
190.66 – Rohit has a batting average of 190.66 in the 2nd match of series where he captained the Indian team. He scored three centuries including an ODI double while batting first and two fifties while chasing. Three of the five knocks came after India lost the first match.