India vs Bangladesh, 2019: 5 things to know ahead of the first-ever day/night Test match in India
All the details which you should know ahead of India's first-ever Day-Night Test match.
Updated - Nov 21, 2019 2:28 pm
1.8K Views
Follow us on Telegram
The day/night Test cricket will finally make its debut in India as the home team faces Bangladesh in the Test match starting on Friday at the historic Eden Gardens in Kolkata. This will be the first-ever appearance in a D/N Test match for both India and Bangladesh who are currently part of a 2-match Test series. Among the first ten full-member nations, these two are the only countries to not feature in a Test match to be played under the lights till date.
India made an attempt at playing the longer format matches under the floodlights as early as in 1997. However, the dew factor made the experiment a pale idea and this innovation was shelved for the next two decades. This idea was brought back into domestic set-up during the 2016/17 season after Australia hosted the first-ever day/night Test match in 2015. After three seasons of trails, the historic match got approval from both the Cricket Boards.
Here are the five things to be known ahead of the first-ever day/night Test match to be hosted by India:
1. Timings of the match: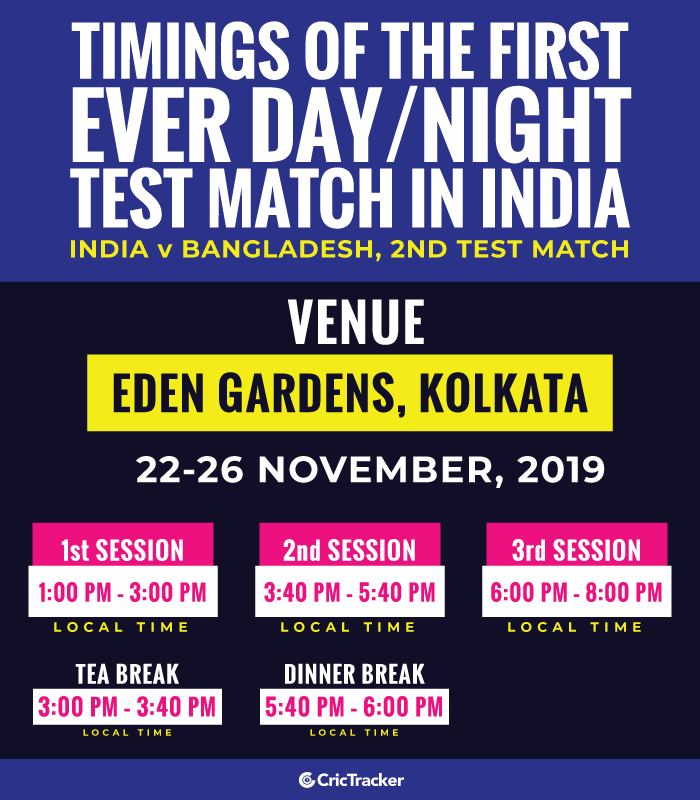 Historically, the Test matches in India start at 9:30 AM and a few at 9 AM local time. The day/night Test, however, will start at 1 PM local time and will be played until 8:30 PM including 30 minutes extra time. One of the reasons for early starts is to keep down the time played in wet outfield caused by the dew.
The closing time is equivalent to the start time of the IPL matches when the dew comes into full effect. There will be a 40-minute Tea interval starting from 3:00 PM and the 2nd session will commence from 3:40 PM. The dinner/supper break will be taken at 5:40 PM and will be of 20 minutes.
The last session will be from 6:00 PM to 8:00 PM and could go until 8:30 PM if the minimum of 90 overs are not bowled. At least one and a half sessions of the day are played under the lights due to early sun-set in Kolkata. The recent most Test match hosted by this venue in 2017 saw the day coming to an end well before 4:30 PM due to bad light.
Follow us on Google News