International players should be able to communicate freely about their mental health problems: Virat Kohli
Kohli also lauded Maxwell for setting the right example for the cricketers all over the world.
Updated - Nov 13, 2019 2:37 pm
19.9K Views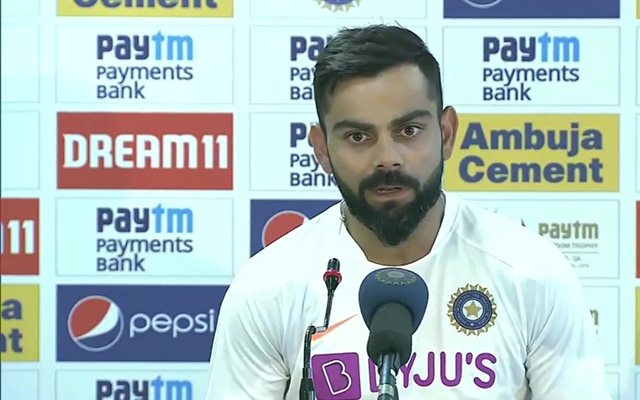 Follow us on Telegram
The Indian skipper Virat Kohli has weighed in his opinion on the mental health problems of the athletes. The issue got highlighted recently with Glenn Maxwell taking an indefinite break from the sport recently and then Nic Maddinson followed his footsteps as well. Kohli also feels that the players at the international level should be able to communicate freely about their mental issues and should get all the support as well.
As far as Maxwell and Maddinson are concerned, both have got strong backing from Cricket Australia (CA). While the players across the world have been able to take such a big step, such a situation has never come up in Indian cricket. Recently, Yuvraj Singh had also stated that the players in India fear to take a break as they are concerned if they will be able to make a comeback to the team later.
However, Virat Kohli stressed that the cricketers in India should also be able to communicate if they're struggling with such issues and also felt that they should be provided ample support in that case. He also lauded Glenn Maxwell for taking the right step and setting the example.
"When you get to the international stage, every player that's in the squad needs that sort of communication and that ability to just speak out. I think what Glenn [Maxwell] has done is remarkable and it sets the right example for cricketers all over the world that if you're not in the best frame of mind, you try, you try, you try.
"But I think as human beings you reach a tipping point at some stage and you need some time away from the game," the 31-year-old was quoted as saying by Cricbuzz.
Virat Kohli explains his situation in 2014
Virat Kohli endured an extremely tough time during India's England tour in 2014. He was repeatedly getting out outside the off-stump line to James Anderson and managed to muster only 134 runs in 10 innings. Questions were raised on his credibility to play Test cricket as well. Kohli recalled those times and revealed that he was confused about what and whom to speak and wasn't sure of the right way forward.
"I've gone through a phase in my career where I've felt like it was the end of the world. In England 2014, I just didn't know what to do, what to say to anyone, how to speak, how to communicate. To be honest, I couldn't have said I am not feeling great mentally and I want to get away from the game, because you never know how that's taken.
"I think these things should be of great importance because if you think that a player is important enough, for the team and for Indian cricket to go forward, I think they should be looked after," Virat Kohli further added. For a player of the stature of Kohli to speak openly about mental health is a big thing considering the current stage in the Indian cricket where there is so much competition the players of every age group have to deal with.
"I am absolutely for it. To be very honest, you have a job to do, we have a job to do. And everyone's focused on what they need to do so it's very difficult for anyone to figure out what's going on in another person's mind," the Indian captain said.
[interaction id="5dc6bf20173fc165efba1101″]
Follow us on Google News