IPL 2018: Deepak Chahar bowls a strange delivery; sparks debate
The Chennai Super Kings pulled off an unlikely victory against the Sunrisers Hyderabad in Qualifier 1.
Updated - May 25, 2018 6:17 pm
2.6K Views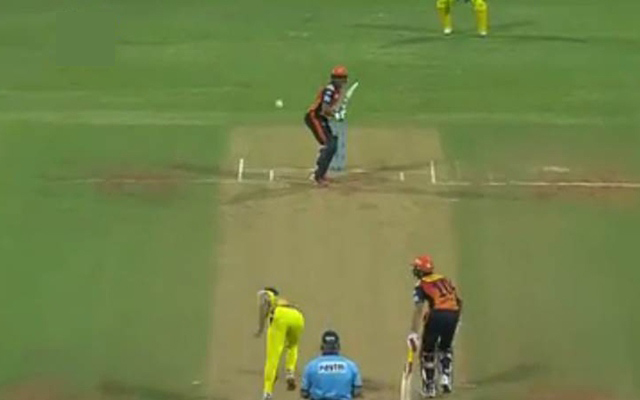 The shorter format of the game is very exciting because one single delivery can turn the match. One moment of brilliance can turn the match on its head and snatch the game away from the opposition. Therefore, the players need to remain vigil at all times to avoid costly mistakes. The Indian Premier League has seen several moments of brilliance that has helped the teams to grab vital points.
Things like umpiring decisions are not in the hands of the players. Unfortunately, the umpiring standards have been poor in this year's IPL and several decisions have cost heavily to the franchises. Umpiring is also an important aspect in a T20 game as often close decisions decide the course of the match. Deepak Chahar, CSK's pace bowler bowled a bizarre delivery against the Sunrisers Hyderabad in Qualifier 1 and seemed to have got away with it.
Controversial decision
Chahar lost control of the ball and sent it flying over the batsman's head. It took a bounce in front of wicketkeeper MS Dhoni before settling into his hands. Since the ball was full and above batsman's waist and was veering outside leg, the delivery was a very good candidate for no-ball or wide. But Umpire Marais Erasmus declared it as a dead ball and did not offer the extra run to SRH.
Here's the video of the freak delivery from Chahar
Dead ball or No-ball? https://t.co/NDQTbMU2rE via @ipl

— Sports Freak (@SPOVDO) May 22, 2018
The on-air commentators were clearly not happy with the Umpire's decision. They felt that CSK got away with the poor delivery. Shakib Al Hasan, who was the man with the bat, seemed to be equally miffed as to how that did not become an extra in his team's favour.
The umpires are still not sure as to whether such deliveries are a no-ball or dead-ball. There have been instances where such deliveries have been smacked out of the park and Umpires have declared it as legal delivery and given runs to the batsmen. Such issues must be dealt with quickly so that they do not have a major impact in the game.
Stay updated on 'today's cricket news' with CricTracker.com