IPL 2018: Fans crush Vinay Kumar after his attempt to defend himself
Vinay Kumar was unable to defend 17 runs in the final overs against CSK
Updated - Apr 11, 2018 4:48 pm
2.2K Views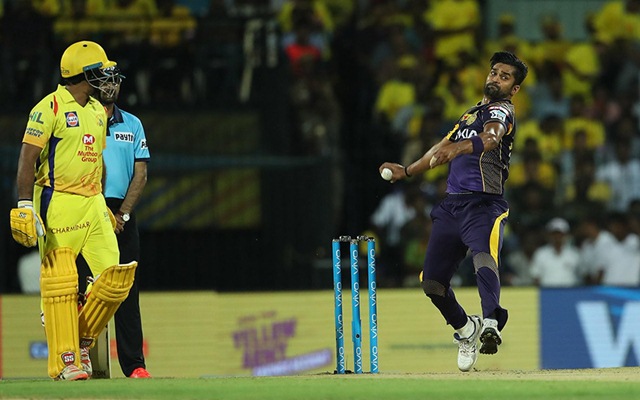 Kolkata Knight Riders (KKR) had an impressive start to their campaign of the Indian Premier League (IPL) 2018 with a thumping victory against the Royal Challengers Bangalore (RCB). However, they couldn't evade a defeat against the Chennai Super Kings (CSK) at the MA Chidambaram Stadium in Chennai. Despite scoring 200 plus, runs they were unable to restrict Mahendra Singh Dhoni's men.
The Knights were well and truly n contention for a win during a chunk of the contest. Andre Russell annihilated the Chennai bowlers with sheer disdain and posted a humungous total for CSK to chase. The franchise lost quite a few wickets in the middle, but Dinesh Karthik and Russell bailed them out from the precarious position.
Prior to the game, Chennai were the favourites, however, after KKR's innings, the odds were stacked against the Yellow Army. Shane Watson and Ambati Rayudu made their intentions clear with some clean striking, which pulled back the required run rate by a significant extent. However, following the dismissal of both, the home team slowed down and also lost a few wickets.
The nightmare for Vinay Kumar
Meanwhile, the required rate leapfrogged, much to the agony of the Super Kings. Nevertheless, Sam Billings, who made his debut for Chennai yesterday, stomped in and found the boundaries at regular intervals, which somewhat rattled the Knight Riders. The game eventually went down to the last over where the hosts required 17 runs.
The Knights had the upper hand, but Vinay Kumar conceded those many runs with one ball to spare. The over started with a waist-high full toss which was spanked over the ropes. To add insult to injury, it was called a no-ball. The over went downhill for the Karnataka pacer and Jadeja ended the game with another humungous blow over the boundary hoardings.
The fast-bowler was severely criticized by supporters across the country after his lacklustre performance. The Karnataka pacer tried to defend himself and brought forth previous instances when he defended runs in the final over. However, after he took to Twitter and delivered the message, he was greeted with slack from the supporters.
Here is Vinay's tweet
Hey guys take it easy, it's just a game. Where were you all when I defended 9 runs against RCB and 10 runs against Mumbai Indians!! Sometimes things do go wrong so CHILL….

— Vinay Kumar R (@Vinay_Kumar_R) April 11, 2018
Here are the replies from fans
This match stats:

Vinay Kumar – 35* (11)
Strike Rate – 318
Boundary – 77%
Dot Balls – 18% (First 2 balls only)
Specialist-
a) Opener – 19 in Over 1.
b) Finisher – 16 in Deciding Over.

— Shahrukh Ahmed (@iShahrukh93) April 11, 2018
its just a game ?
so u are justifying ur disaster performance last night!
please stay out of playing X1 and yes just chill sitting on the bench.

— Neeraj✍️ (@Iam_Ineffable) April 11, 2018
sala abhi bhi khel ne ka sapna dekh raha hai

— Rahul (@itsRahulSRKian) April 11, 2018
Last over m no-ball dalta h chutiye

— #AmiKKR (@Srks_jay) April 11, 2018
Bhai kal aapko over milte hi maine paise de diye the itna confidence hai mujhe aap pe !!

— Gautam (@TheMystic19) April 11, 2018
Iska game nahi *GAMES*hota hai. Har match mai chudawata hai yeh.

— …. (@Sr_nof) April 11, 2018
But when you are so experienced, and you were smashed the same way in the previous game itself, you definitely can't bowl a no ball to Bravo.
We expect much better. from you.

— Sudhangshu Das (@monty19181) April 11, 2018
CHUP KAR MADARCHOD

— SRKsRishi (@RaeeSRKianRishi) April 11, 2018
Thanks bro… Tere karan meri prediction sahi ho gayi… Love u.. More power to u.. Aisi hi bowling karte raho…

— Thugs Of pokestan (@Cute_Pikachuu1) April 11, 2018
Proud that u play for Whistle Podu….

— David Warner's Orange Army (@Being_Divya16) April 11, 2018
[interaction id="5acca9e00b450db51a764cef"]