IPL 2018: Karun Nair's incredible reverse switch hit is just pure innovation
Karun scored 26-ball 54 in a losing cause.
Updated - May 21, 2018 11:04 am
1K Views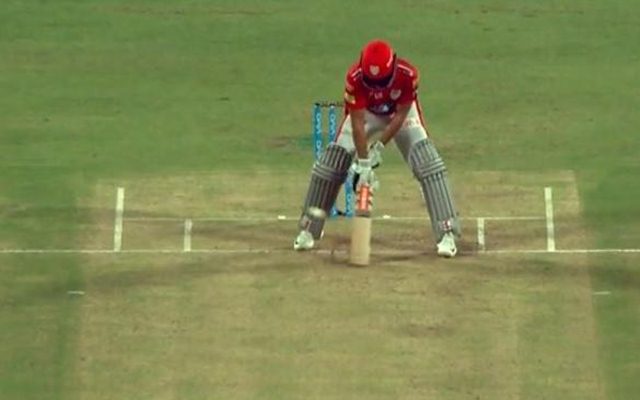 The 2018 edition of the Indian Premier League has seen a lot of innovative shots played by the batsmen. The season has been a thoroughly entertaining one thus far in the build up to the playoffs. In the last league game of the season, the Kings XI Punjab batter, Karun Nair played an incredible shot that not many can think of. His shot came in the final overs of the KXIP innings and one could safely name the shot to be a reverse switch hit.
The thing that made the shot look even more beautiful was the fact that Karun Nair hit the shot against of the veterans of T20 cricket, Dwayne Bravo. The Chennai Super Kings all-rounder had a wry smile on his face after watching Karun execute the shot to perfection. The action perspired in the penutlimate over of the game.
CSK skipper MS Dhoni went to his specialist death overs bowler, Dwayne Bravo. The dwindling KXIP innings had found a messiah in Karun Nair who faced Bravo in the over. On the second ball of the over, Bravo bowled a full length delivery angling down the leg side.
Karun Nair premeditated and knew the field on the off side was inside the circle. He took a stance with his front facing the bowler. Very swiftly, he adjusted his hands to reverse flick the ball as if a left handed batsman was at the crease. The ball went soaring past the fielders in the short third man and the point region. The ball went for a four.
Here is how Karun Nair played the shot:
Karun Nair's dancing shoes shot https://t.co/EPZdEf9AUE via @ipl

— prince kumar singh (@prince2710singh) May 21, 2018
Commenting on the game, the Kings XI Punjab were in a must win situation in the match. They, however, struggled big time with half the side back in the pavilion with a score less than 100 on the board. Karun then played a brilliant 26-ball 54 to help KXIP post 153 on the board. However, the score was a little too less for the mighty Chennai Super Kings batting lineup. Riding on an unbeaten fifty from Suresh Raina, CSK won the game by 5 wickets.