IPL 2018: KKR coach Jacques Kallis has a serious pep talk for his side
The Knight Riders are lined up to face the rejuvenated Rajasthan Royals in Kolkata in their next game.
Updated - May 14, 2018 9:29 pm
2.5K Views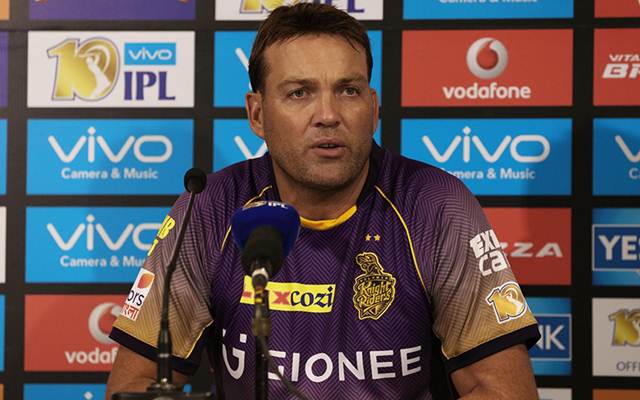 The Kolkata Knight Riders are in a very precarious state in the ongoing edition of the Indian Premier League. At one stage in the tournament, they looked like a certain proposition to make the cut for the playoffs. However, their recent performances have given the other teams a sniff. The KKR head coach, Jacques Kallis, pretty much knows what his team needs to do next.
The Knight Riders are lined up to face the rejuvenated Rajasthan Royals in Kolkata in their next game. The Royals have been performing exceedingly well in the do or die games. And hence, Jacques Kallis rightly admitted that his side needs to overhaul the Royal spirit. As per the recent quotes in Times of India, Kallis remarked that the destiny of the KKR side is in their hands. If they miss out, they will have none but themselves to blame for the loss.
"Destiny is still in our hands. If we play two good games of cricket, we are through to the playoffs and that's what we are interested in. It's about taking one game at a time and play well tomorrow. We are not really worried about what the rest of the teams are doing," Jacques Kallis quoted.
On Jos Buttler's form
Facing the Rajasthan Royals, the KKR camp would be wary of the threat that the in-form batter Jos Buttler poses for them. Commenting on Buttler's form, Jacques Kallis admitted that the Englishman has been in a sensational form. And for KKR to succeed in the game, they need to get Buttler out early.
"He certainly has been consistent and in good form. So we obviously have to make sure we have some good plans against him and the rest of the batters as well. Hopefully they will work for us to win the game," remarked the KKR head coach.
On Dinesh Karthik's captaincy
Lastly, the KKR coach had special words of praises for the KKR skipper, Dinesh Karthik. Kallis noted that the experience of Karthik has come very good for the Knight Riders. Also, he lauded the efforts of Karthik of leading the team from the front with high energy levels.
"He likes leading from the front, he leads with a lot of energy. He obviously has got lot of experience and understands the game pretty well. It's been a fairly smooth transition. Hopefully we can come up with good game plan tomorrow which leads us to victory," conceded Kallis.
For the latest cricket news, follow CricTracker.