IPL 2019: Umpire S Ravi wasn't looking at Lasith Malinga's front-foot
The no-ball controversy has hit the IPL after mankading.
Updated - Mar 29, 2019 3:32 pm
18.2K Views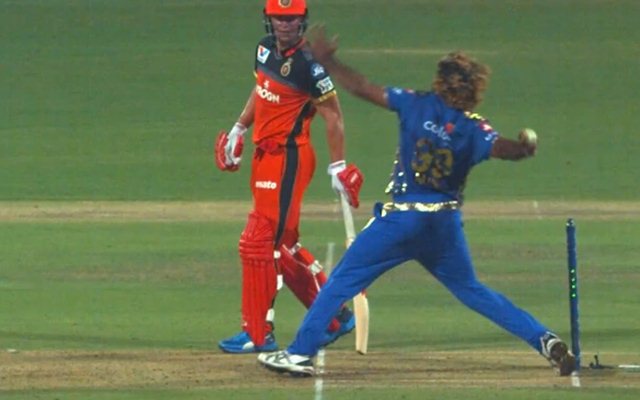 The world is talking about it. That no-ball which wasn't called may have cost the Royal Challengers Bangalore (RCB) the game last night. But there's been a massive outrage on umpire S Ravi who didn't spot Lasith Malinga's foot go over the popping crease. With seven runs needed off the final ball, Malinga delivered a pin-point yorker to restrict Shivam Dube to just one. But as things turned out, the replays were in and was shown on the big screen that Malinga had clearly overstepped.
Both captains, Virat Kohli and Rohit Sharma expressed their disappointment. RCB skipper Kohli was furious as that call went against him and his team. He even termed it as a 'ridiculous call' and stated that this is not club cricket. Meanwhile, the Mumbai Indians skipper also lashed out as he criticised the unawareness of the umpire. He said that such mistakes might cost teams big games and tournaments as well.
Umpire Ravi was looking at the batsman
S Ravi who is an ICC Elite panel umpire has had to cope with a lot of flak ever since the game between RCB and MI ended. Captains, experts, commentators, everyone has had a go at him. Moreover, a senior official from STAR, the official broadcaster, has made a telling revelation. He said that he went through the last ball in slow motion and could confirm that umpire Ravi wasn't looking at Malinga's foot. He already had his eyes pinned on the batsman.
"Having gone through the slow-motion replay of the match feed, I can tell you for certain that Ravi wasn't even looking at the front foot of the bowler. He was already looking at the batsman," the senior STAR official was quoted saying by India TV.
Old habit of first looking at the bowler's foot is ignored by most umpires
There are a lot of no-balls that aren't called. Not only in the IPL but even in the international games, umpires seem to be missing out on a lot of no-balls. The senior executive in STAR who revealed that umpire Ravi wasn't looking at the foot further added that most Indian umpires hardly look at the foot and only check if the batsman is out.
"The old habit of first looking at the bowler's foot at the point of delivery and then looking towards the batsman is being ignored by most Indian umpires these days. They just look at the line where the ball is pitching and take it from there. If a batsman is dismissed, they go up to the third umpire and check for the no-ball," the executive added.
[interaction id="5c9cb2d8f5116728e99f66b5″]