IPL 2020: RR terms Steve Smith GOAT; Virat Kohli fans troll them
Steve Smith and other Australian players have arrived in the UAE to take part in the IPL 2020.
Updated - Sep 19, 2020 5:42 pm
1.7K Views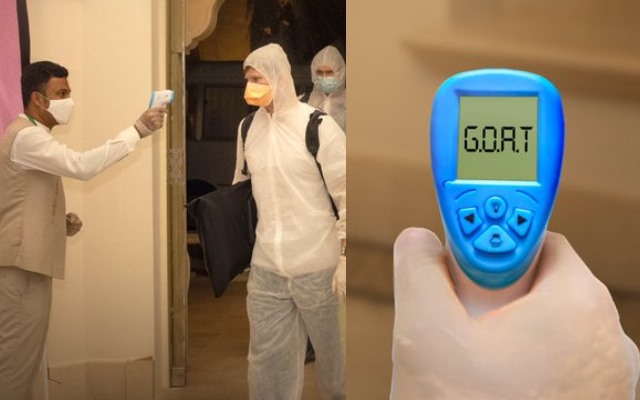 Finally, after all the hard work, the Indian Premier League (IPL) is getting underway in Abu Dhabi on Saturday. Even the players from Australia and England have arrived after the conclusion of the bilateral series in the UK. After all the uncertainty around their availability in the first week, it has been decided that they will stay in quarantine only for 36 hours as they moved from one bubble from another to play cricket.
The Rajasthan Royals have benefitted the most with this decision as the majority of their foreign players are from Australia and England including their skipper Steve Smith. The pictures of them wearing the PPE kit and joining their respective teams went viral on Friday and accordingly, even Smith arrived for a Royal welcome.
The Royals' Twitter handle welcomed in a hilarious way posting a photo of him getting his temperature checked through the machine. However, they depicted as if even the machine showed the 'GOAT' (Greatest of All Time) has arrived.
Here's the tweet:
𝐈𝐂𝐘𝐌𝐈 😉#HallaBol | #RoyalsFamily | @stevesmith49 pic.twitter.com/VPkfpBKyW1

— Rajasthan Royals (@rajasthanroyals) September 19, 2020
Battle between the fans start
There has been a debate over who is the GOAT between Virat Kohli and Steve Smith. And the latest post from the Royals has certainly triggered the Kohli fans who are trolling the franchise now. While both the players are exceptional in their own way for their country and teams in the IPL, they are compared to each other every time they take the field.
No wonder the battle will continue between even this season and it will be interesting to see who steals the limelight when the two teams face-off. Meanwhile, Steve Smith will be in action on September 22 for the game against the Chennai Super Kings (CSK) and most importantly, he will be available and lead the side provided he tests negative for COVID-19.
Virat Kohli, on the other hand, will take the field for the first time in six months on Monday (September 21) against the Sunrisers Hyderabad in Dubai. Meanwhile, the fans were busy trolling the Royals for their hilarious GOAT tweet even as social media is buzzing with the tweets around the IPL.
Here are some of the tweets:
Putting Smith's photo still mentioning about Virat Kohli, Unreal Obsession. https://t.co/r04GaHRluE

— AFC Abhi (@that_AfcAbhi) September 19, 2020
Virat gonna play for @rajasthanroyals? 😨 https://t.co/fLO8J3QuWZ

— VKarthik (@karthik_arya18) September 19, 2020
Virat Kohli be like: #Copied https://t.co/tQ0B9Ko3qf pic.twitter.com/p2QsB1JEVd

— ಸೂರಜ್ (@Suraj_suri_12) September 19, 2020
straight up embarrassing 😹😹😹😹😹 pic.twitter.com/yFai6SiI0E https://t.co/mhf3gVVTmO

— The Alchemist (@ponananthvs) September 19, 2020
IPL is not Test format ra 🏃 https://t.co/IFjAQTARVA

— Abishek ⎊ (@AbiDhonifan) September 19, 2020
GOAT ahh 😹 https://t.co/gLLZ1xgY3V

— Shekar Setty (@SettyTweets) September 19, 2020
Hyping Smith in T20 is beyond imagination 😂😂😂😂😂#IPL2020 https://t.co/P9VUpPgflX

— Dharmesh (@Mumbaiikar) September 19, 2020
😂 https://t.co/JFMJK1NVnA pic.twitter.com/r93aWz9T1l

— Sagar (@kbks2002) September 19, 2020
Lol next joke 🥱🥱 https://t.co/GgU1Yx4Viq

— Dúde (@dudescricket) September 19, 2020
Self troll 🤣 https://t.co/lic2oQEaCo

— Sumanth (@Sumanth21921027) September 19, 2020
https://t.co/XPjChsH3fP pic.twitter.com/ZAjB3IDlN3

— J̶O̶N̶A̶S̶ (@JonasTweetzss) September 19, 2020