IPL 2020: The curious case of KL Rahul's batting approach
Was KL Rahul's batting style correct in IPL 2020?
Updated - Nov 16, 2020 9:15 am
1.1K Views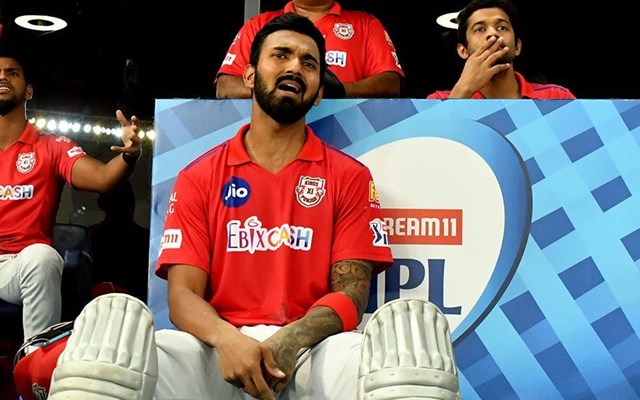 670 runs, 55.83 average, six fifty-plus scores including a record 132*. These were the numbers of KL Rahul in the IPL 2020 for Kings XI Punjab while serving as captain and wicketkeeper of the team. These figures might look grand but when it comes to the impact created to the team's success, Rahul might fall quite behind. The reason behind it being his approach through the tournament as his strike rate reads only 129.34 despite facing more than 500 balls across the league phase itself.
Rahul's strike rate in IPL 2020 is the 2nd lowest among the players who scored at least 600+ runs in a Men's T20 tournament. The previous lowest was of Mike Hussey who had a strike rate of 129.5 during the 2013 IPL where he amassed 733 runs across 17 matches. During that season, the average strike rate with which his team Chennai Super Kings scored was around 130 but in Rahul's case, it was over 135, the second-highest for any team in IPL 2020.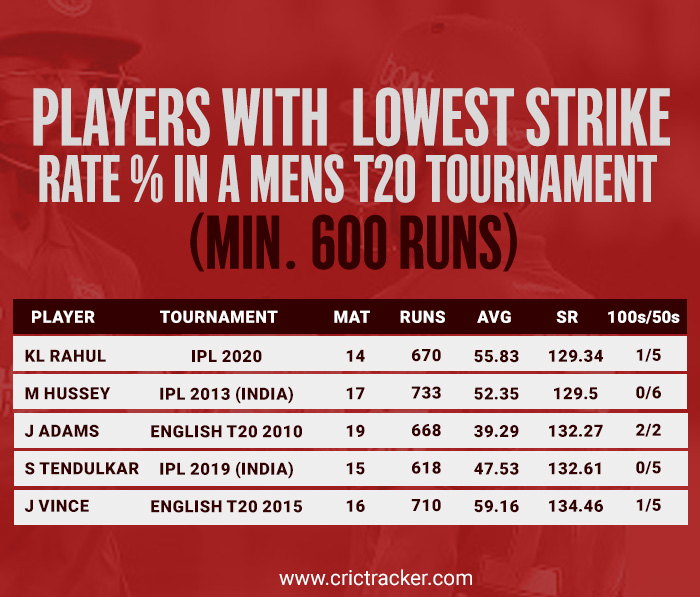 A lot of defeats through the season could be said due to causal and defensive approach of KL Rahul. During their 5-match losing spree in the first half, Rahul even claimed that strike rate is an overrated metric indicating his thought process behind a flawed approach. This seemed as if he wanted to stay as an anchor in the KXIP team which was not the best of ideas at least for someone like him with a wide array of shots in the armour.
KL Rahul took a step back while bigger damage was done by the likes of Mayank Agarwal, Nicholas Pooran and Chris Gayle in the second half. He came into the Kings XI as a dasher but began to show a different playing style since the previous edition. In 2018, Rahul smashed 659 runs at a whopping strike rate of 158.41 which came down to 135.58 in 2019 where he scored 593 runs. The 2020 IPL saw the strike rate declining but the runs tally going up.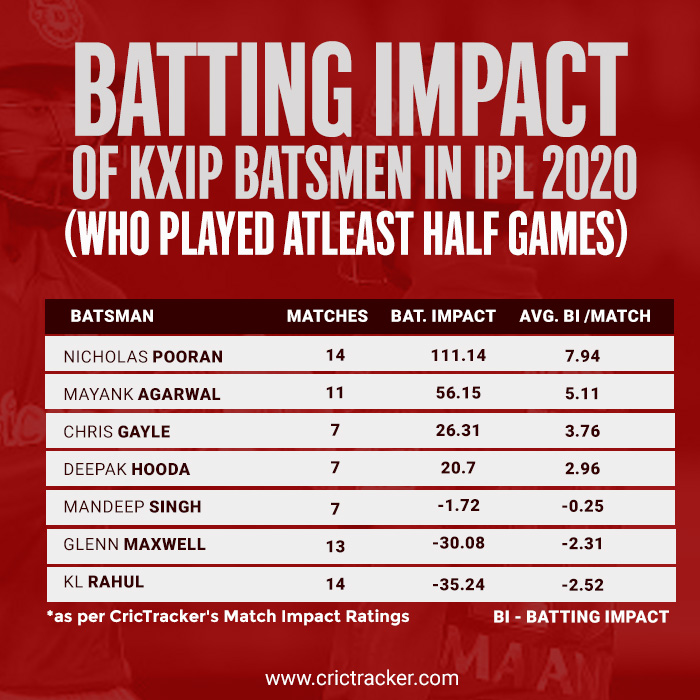 Despite KL Rahul scoring around 600 runs, in all the three editions, KXIP still won only six games every year. This raises doubts over the correctness in Rahul's approach despite being their prolific run-getter. Unfortunately, despite being the Orange Cap holder in IPL 2020, KL Rahul earned an impact of -35.24 through the tournament which is easily the lowest for any player. One of the reasons being him playing 30-40 balls but the returns weren't enough to make a positive effect for the team's cause.
His record unbeaten 132 against the Royal Challengers Bangalore was quite a knock as it helped him earn an impact of +46.54 which is the highest for any player during a match in IPL 2020. During the very next game against Rajasthan Royals, Rahul got an impact of -27.51 which is the worst for any player in the tournament in a match. Rahul batted 54 balls but only scored 69 runs while the rest of 11 overs got KXIP as many as 154 runs and their total of 223/2 wasn't enough at the Sharjah.