IPL 2021: Rajasthan Royals tweak Riyan Parag's picture with Lasith Malinga's hairstyle
Lasith Malinga retired from franchise cricket before IPL 2021, having played several seasons for Mumbai Indians.
Updated - Apr 16, 2021 10:14 pm
712 Views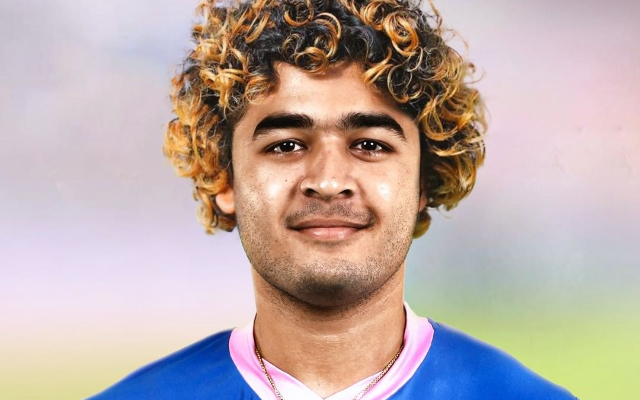 Lasith Malinga is one of the best players to have ever played in T20 cricket. He will remain an iconic figure of the game for a few reasons. Malinga has a unique action, which is known as the slinging action. He was nicknamed 'Slinga Malinga' for this reason. His hairstyle was also unique because he had curly hair, which had a blonde color. 
He was known as the 'king of curls' for his long curly hair which made him quite recognizable in world cricket. A lot of fans used to try his hairstyle and it became a trend back in the day. Now, this curly hair cut has become a social media meme and it is quite hilarious. Rajasthan Royals' social media jumped on this occasion and made a post with Riyan Parag in it. 
Royals' posted a picture of the young all-rounder from Assam, Parag on Instagram. The only tweak which was made was that his hairstyle was swapped with that of Lasith Malinga. They photoshopped Parag's hairstyle and uploaded the picture on Instagram, mentioning the Mumbai Indians team. 
Rajasthan Royals joked that Mumbai Indians will say that the picture is photoshopped
Royals wrote in the caption joking that Mumbai Indians fans will say that the picture is photoshopped. Malinga played in the IPL for only one team Mumbai Indians. He has helped them win multiple titles. So, it can be said that Rajasthan was trying to take a sly jibe at the Mumbai Indians. The caption read, "@mumbaiindians fans will say this is photoshopped."
View this post on Instagram
After the picture was uploaded, fans started reacting to it and it soon became a viral post on social media. Some fans came ahead and named Riyan Parag as 'Risath Paringa', Riyanlinga', 'Lasith Parag' and 'Relinga.' Parag is one of the brightest IPL young stars and is a popular person on social media. 
The 19-year-old didn't have a great day with the bat in the second match which his side played. However, while bowling, he ran out Rishabh Pant with a direct throw, which turned the course of the match towards Rajasthan. The match was a last-over thriller, with Chris Morris taking Royals' over the line in Mumbai on Thursday.
Watch Mohammad Azharuddeen's Rapid Fire –