IPL 2022: 10 Players who could've been used better by other teams
Devon Conway was benched by CSK after just one match.
We cherish the times when our favorite player goes all guns blazing, we jump from our seats and punch in the air passionately when our special team achieves victory. We enjoy their success as our own but it isn't always the same. There are those memorable triumphs as well as the heart-wrenching defeats. For the players, there are times when every ball just hits the middle of the bat while sometimes despite trying so hard there is no connection whatsoever. Every player goes through such phases. Sometimes, it isn't always because of the lack of form or touch but the factors like – the team they are in, the collective batting approach, the position of the player in the batting line-up, or just the team composition. 
IPL 2022 has had many such cases where some players did not perform to their potential may be due to the poor utilization of their capabilities by their respective teams. Many players were asked to play way down the order and in doing so, they didn't make the impact they were expected to have. While some players were benched longer than necessary, that didn't help their teams either. Few of them simply did not get the assistance from their teammates because at times their batting collapsed, leaving their bowlers with nothing much to fight for. In hindsight, some teams could have used these players more efficiently to undo their shortcomings.
Here's a list of ten players who could've been used better by other teams in IPL 2022:
1. Devon Conway by KKR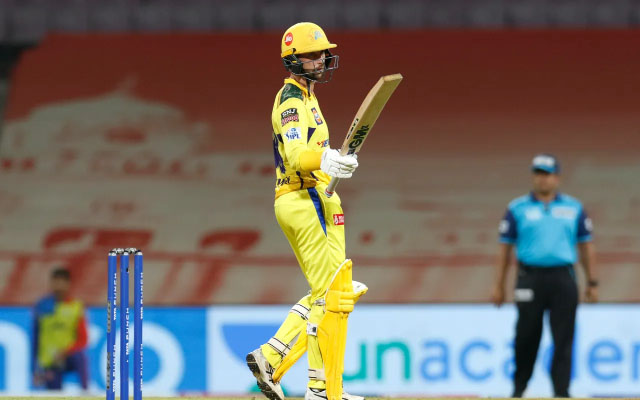 Many cricket fans were surprised to see Devon Conway benched after just one match. After the inaugural match between the Chennai Super Kings and Kolkata Knight Riders, Conway was kept out of the playing XI and that did hurt Chennai, as the other opener – Ruturaj Gaikwad was searching for form in the initial three to four games and wasn't that successful. CSK then went with the IPL veteran Robin Uthappa, he did contribute at the start but didn't create a substantial impact.
The Kolkata Knight Riders struggled with their team combination. They have made around 20 changes in their playing XI so far this season, though that has not led them to victories. Their opening pair started with Ajinkya Rahane and Venkatesh Iyer who did not perform the way he was expected. Then they moved from Ainkya Rahane to Aaron Finch but that change too couldn't make things better either. They even tried Baba Indrajith and Venkatesh Iyer. In hindsight, if Devon Conway played for the Kolkata Knight Riders and if they were to remain committed with Conway as an opener that would have changed a whole lot in the KKR camp.
Devon Conway has scored a total of 236 runs in 6 matches in the IPL 2022 so far. Barring the first match, he has been the man that brought the Chennai Super Kings back in the scheme of things, but now the journey to playoffs is over after the loss against Mumbai Indians last week. Devon Conway could have made a significant difference if he had played with KKR, as they might have included him regularly in the playing XI.