IPL History: Most expensive player in each IPL season
In the very first-ever auction, MS Dhoni was the costliest player and it did not raise any eyebrows.
Updated - Mar 5, 2021 1:41 pm
1.1K Views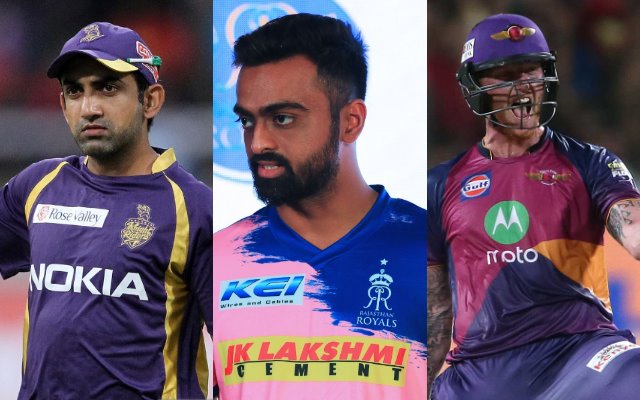 Follow us on Google News
It won't be wrong to say that the auction for the Indian Premier League (IPL) is as exciting as the tournament itself. Over the years, the auction has given the game of cricket some most exciting and beautiful stories. From unknown faces becoming millionaires to big names going unsold, the last 13 auctions of the IPL has seen it all.
The auction for the 14th season of the IPL took place last month. While the auction was originally scheduled to be a mega one, it turned out to be a mini one as there wasn't much time between the IPL 2020 and 2021. As far as the tournament is concerned, it is likely to start in the second week of April.
Most Expensive Player in IPL History (season wise):
In the very first-ever auction, MS Dhoni was the costliest player and it did not raise any eyebrows. Following India's triumph in the 2007 T20 World Cup and Dhoni's abilities as a batsman and captain, he was the most in-demand player in auction. Chennai Super Kings had secured his services for Rs 9.5 crores. Since then, he has been with the Chennai-based outfit and has led them to three IPL titles.
In the following year, two England players – Kevin Pietersen and Andrew Flintoff – became the costliest players before Shane Bond and Kieron Pollard took the honours ahead of IPL 2010. For the 2011 edition, Kolkata Knight Riders made Gautam Gambhir the costliest player by splashing a whopping amount of Rs 14.9 crores.
In the following seasons, the likes of Yuvraj Singh (twice), Ben Stokes (twice), Ravindra Jadeja, Jaydev Unadkat became the costliest players. Last season, Pat Cummins became the costliest player in the history of IPL.
However, the 2021 IPL auction turned out to be the most exciting with Chris Morris earning Rs 16.25 crore with Rajasthan Royals shelling a whopping amount for him. He also became the most expensive player in the auction ever.
Here is the complete table of IPL's most expensive players (season-wise)
| | | |
| --- | --- | --- |
| Year | Players & Teams | Price (in INR) |
| 2008 | MS Dhoni (CSK) | 9.5 crore |
| 2009 | Kevin Pietersen (RCB), Andrew Flintoff (CSK) | 9.8 crore |
| 2010 | Shane Bond (KKR), Kieron Pollard (MI) | 4.8 crore |
| 2011 | Gautam Gambhir (KKR) | 14.9 crore |
| 2012 | Ravindra Jadeja (CSK) | 12.8 crore |
| 2013 | Glenn Maxwell (MI) | 6.3 crore |
| 2014 | Yuvraj Singh (RCB) | 14 crore |
| 2015 | Yuvraj Singh (DD) | 16 crore |
| 2016 | Shane Watson (RCB) | 9.5 crore |
| 2017 | Ben Stokes (RPS) | 14.5 crore |
| 2018 | Ben Stokes (RR) | 12.5 crore |
| 2019 | Jaydev Unadkat (RR), Varun Chakravarthy (KXIP) | 8.4 crore |
| 2020 | Pat Cummins (KKR) | 15.5 crore |
| 2021 | Chris Morris | 16.25 crore |
Follow us on Telegram