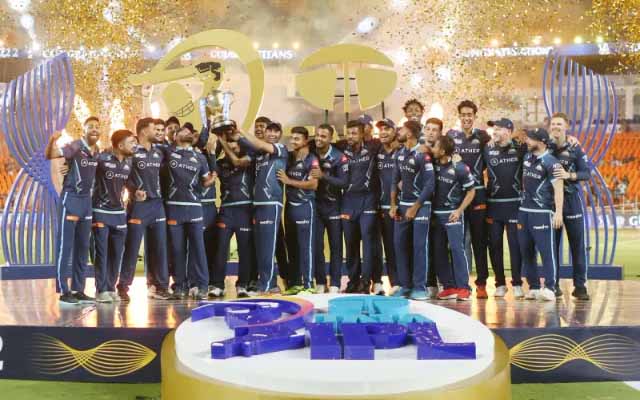 Cricket fans would have their eyes set on the calendar with the 2023 edition of the IPL just around the corner. The gala tournament will get underway in the last week of March and several nail-biting battles are on the cards. IPL 2023 is expected to be a grand affair as 10 teams have been fighting for the title since the last season.
Speaking of the history of IPL, the inaugural season took place in 2008, months after India's 2007 T20 World Cup triumph. Rajasthan Royals became the first IPL champions, beating Chennai Super Kings in the summit clash. Now-defunct Deccan Chargers lifted the silverware in 2009.
IPL became more popular with each passing season as T20 stalwarts from different regions desired to feature in the competition. The same prompted the Board of Control for Cricket in India (BCCI) to expand the competition.
Meanwhile, Mumbai Indians are the most successful team in IPL, having won the title a record five times. Chennai Super Kings hold the second place with four trophies in their pocket. Two-time winners Kolkata Knight Riders are the only other team with more than one IPL title. Delhi Capitals, Punjab Kings, and Royal Challengers Bangalore are the only teams to have not lifted the title despite featuring in all 15 previous seasons. Gujarat Titans happen to be the defending champions.
IPL Winners & Runners List
| | | | | |
| --- | --- | --- | --- | --- |
| Year | Winner | Won by | Runner Up | Venue |
| 2023 | - | - | - | - |
| 2022 | Gujarat Titans | 7 wickets | Rajasthan Royals | Ahmedabad |
| 2021 | Chennai super kings | 27 runs | Kolkata Knight Riders | Dubai |
| 2020 | Mumbai Indians | 5 wickets | Delhi Capitals | Dubai |
| 2019 | Mumbai Indians | 1 run | Chennai Super Kings | Hyderabad |
| 2018 | Chennai Super Kings | 8 wickets | Sunrisers Hyderabad | Mumbai |
| 2017 | Mumbai Indians | 1 run | Rising Pune Supergiants | Hyderabad |
| 2016 | Sunrisers Hyderabad | 8 runs | Royal Challengers Bangalore | Bangalore |
| 2015 | Mumbai Indians | 41 runs | Chennai Super Kings | Kolkata |
| 2014 | Kolkata Knight Riders | 3 wickets | Kings XI Punjab | Bangalore |
| 2013 | Mumbai Indians | 23 runs | Chennai Super Kings | Kolkata |
| 2012 | Kolkata Knight Riders | 5 wickets | Chennai Super Kings | Chennai |
| 2011 | Chennai Super Kings | 58 runs | Royal Challengers Bangalore | Chennai |
| 2010 | Chennai Super Kings | 22 runs | Mumbai Indians | Mumbai |
| 2009 | Deccan Chargers | 6 runs | Royal Challengers Bangalore | Johannesburg |
| 2008 | Rajasthan Royals | 3 wickets | Chennai Super Kings | Mumbai |
IPL Winners List with Captain, Man of the Match, and Player of the Series
| | | | | |
| --- | --- | --- | --- | --- |
| Year | Winner | Captain | Man of the Match | Player of the Series |
| 2022 | Gujrat Titans | Hardik Pandya | Hardik Pandya | Jos Buttler |
| 2021 | Chennai Super Kings | MS Dhoni | Faf du Plessis | Harshal Patel |
| 2020 | Mumbai Indians | Rohit Sharma | Trent Boult | Jofra Archer |
| 2019 | Mumbai Indians | Rohit Sharma | Jasprit Bumrah | Andre Russell |
| 2018 | Chennai Super Kings | MS Dhoni | Shane Watson | Sunil Narine |
| 2017 | Mumbai Indians | Rohit Sharma | Krunal Pandya | Ben Stokes |
| 2016 | Sunrisers Hyderabad | David Warner | Ben Cutting | Virat Kohli |
| 2015 | Mumbai Indians | Rohit Sharma | Rohit Sharma | Andre Russell |
| 2014 | Kolkata Knight Riders | Gautam Gambhir | Manish Pandey | Glenn Maxwell |
| 2013 | Mumbai Indians | Rohit Sharma | Kieron Pollard | Shane Watson |
| 2012 | Kolkata Knight Riders | Gautam Gambhir | Manvinder Bisla | Sunil Narine |
| 2011 | Chennai Super Kings | MS Dhoni | Murali Vijay | Chris Gayle |
| 2010 | Chennai Super Kings | MS Dhoni | Suresh Raina | Sachin Tendulkar |
| 2009 | Deccan Chargers | Adam Gilchrist | Anil Kumble | Adam Gilchrist |
| 2008 | Rajasthan Royals | Shane Warne | Yusuf Pathan | Shane Watson |
Most Wins in IPL
| | | |
| --- | --- | --- |
| IPL Team | IPL Trophy | IPL Winner |
| Mumbai Indians | 5 times | 2013, 2015, 2017, 2019, 2020 |
| Chennai Super Kings | 4 times | 2010, 2011, 2018, 2021 |
| Kolkata Knight Riders | 2 times | 2012, 2014 |
| Sunrisers Hyderabad | 1 time | 2016 |
| Rajasthan Royals | 1 time | 2008 |
| Deccan Chargers | 1 time | 2009 |
| Gujrat Titans | 1 time | 2022 |
| | | | | | | | | | | |
| --- | --- | --- | --- | --- | --- | --- | --- | --- | --- | --- |
| Year | Winners (Player) | Innings | Runs | Highest Score | Average | Strike Rate | 50 | 100 | 4s | 6s |
| 2008 | Shaun Marsh (PBKS) | 11 | 616 | 115 | 68.44 | 139.68 | 5 | 1 | 59 | 26 |
| 2009 | Matthew Hayden (CSK) | 12 | 572 | 89 | 52 | 144.81 | 5 | 0 | 60 | 22 |
| 2010 | Sachin Tendulkar (MI) | 15 | 618 | 89 | 47.53 | 132.61 | 5 | 0 | 86 | 3 |
| 2011 | Chris Gayle (RCB) | 12 | 608 | 107 | 67.55 | 183.13 | 3 | 2 | 57 | 44 |
| 2012 | Chris Gayle (RCB) | 14 | 733 | 128 | 61.08 | 160.74 | 7 | 1 | 46 | 59 |
| 2013 | Michael Hussey (CSK) | 17 | 733 | 95 | 52.35 | 129.5 | 6 | 0 | 81 | 17 |
| 2014 | Robin Uthappa (KKR) | 16 | 660 | 83 | 44 | 137.78 | 5 | 0 | 74 | 18 |
| 2015 | David Warner (SRH) | 14 | 562 | 91 | 43.23 | 156.54 | 7 | 0 | 65 | 21 |
| 2016 | Virat Kohli (RCB) | 16 | 973 | 113 | 81.08 | 152.03 | 7 | 4 | 83 | 38 |
| 2017 | David Warner (SRH) | 14 | 641 | 126 | 58.27 | 141.81 | 4 | 1 | 63 | 26 |
| 2018 | Kane Williamson (SRH) | 17 | 735 | 84 | 52.5 | 142.44 | 8 | 0 | 64 | 28 |
| 2019 | David Warner (SRH) | 12 | 692 | 100 | 69.2 | 143.87 | 8 | 1 | 57 | 21 |
| 2020 | KL Rahul (PBKS) | 14 | 670 | 132* | 55.83 | 129.34 | 5 | 1 | 58 | 23 |
| 2021 | Ruturaj Gaikwad (CSK) | 16 | 635 | 101* | 45.35 | 136.26 | 4 | 1 | 64 | 23 |
| 2022 | Jos Buttler (RR) | 17 | 863 | 116 | 57.53 | 149.05 | 4 | 4 | 83 | 45 |
| 2023 | - | - | - | - | - | - | - | - | - | - |
| | | | | |
| --- | --- | --- | --- | --- |
| Season | Player | Team | Matches | Wickets |
| 2008 | Sohail Tanveer | RR | 11 | 22 |
| 2009 | RP Singh | DC | 16 | 23 |
| 2010 | Pragyan Ojha | DC | 16 | 21 |
| 2011 | Lasith Malinga | MI | 16 | 28 |
| 2012 | Morne Morkel | DC | 16 | 25 |
| 2013 | Dwayne Bravo | CSK | 18 | 32 |
| 2014 | Mohit Sharma | CSK | 16 | 23 |
| 2015 | Dwayne Bravo | CSK | 16 | 26 |
| 2016 | Bhuvneshwar Kumar | SRH | 17 | 23 |
| 2017 | Bhuvneshwar Kumar | SRH | 14 | 26 |
| 2018 | Andrew Tye | PBKS | 14 | 24 |
| 2019 | Imran Tahir | CSK | 17 | 26 |
| 2020 | Kagiso Rabada | DC | 17 | 30 |
| 2021 | Harshal Patel | RCB | 15 | 32 |
| 2022 | Yuzvendra Chahal | RR | 17 | 27 |
| 2023 | - | - | - | - |