'Is it your original age or cricketer's age?' – Deepak Chahar on funny conversation with Rahul Dravid
Deepak Chahar had a fine series in Sri Lanka both with bat and ball.
Updated - Sep 15, 2021 11:29 am
20.5K Views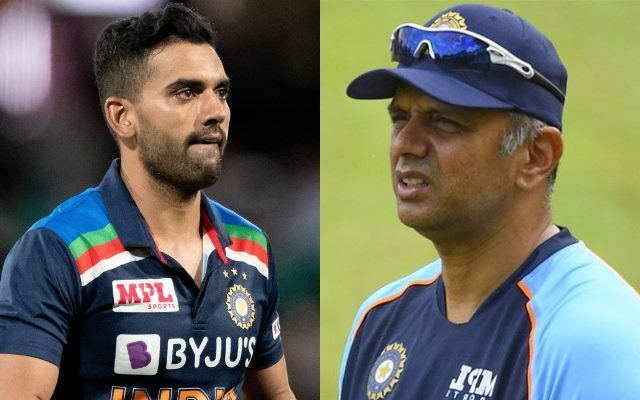 Follow us on Google News
Indian pacer Deepak Chahar has revealed a funny incident from his tour to Sri Lanka. A relatively younger lot of cricketers went to tour Sri Lanka under the guidance of Rahul Dravid as the mainstream team was in the UK for the England Tests. Chahar was also on the same tour and opened on a funny conversation with Dravid over his age.
Chahar added that when they reached Lanka, Dravid asked him about his age. When the cricketer told his age, the legendary cricketer mocked him if he is telling the correct age or the one which he has given in records. Dravid pointed toward the fact that sometimes cricketers get their ages less in the record to enjoy more playing time. However, Chahar further added that he couldn't have played with his age as his father as posted in Indian Air Force.
"When we reached Sri Lanka, Rahul (Dravid) sir first asked me about my age. I told him I am 28 and will turn 29 soon. So, he was like – 'is it your original age or cricketer's age?'. Then I told him that mine is original because my father was in the Air Force, so there was no way I could forge my age!" revealed Chahar with a smirk to Aakash Chopra on his YouTube channel.
Whenever I have played under Dravid, I have always performed well: Deepak Chahar
Chahar further went on to add that Dravid has shown a lot of faith in the youngster and this is why he has always performed in his presence. Apart from performing with the ball, the UP cricketer displayed his batting explosives too which led India to win an ODI in the series.
"On a serious note, he (Dravid) also told me that I have 4-5 years of Test cricket left in me. Those words have stayed with me. He has always considered me as a Test bowler and has selected me for red-ball matches for India A. Whenever I have played under him, I have always performed well with both bat and ball. He knows my capability very well," added Chahar.
Follow us on Telegram